A la "Apple Pie"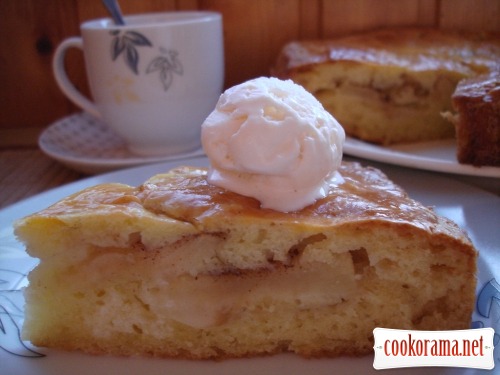 Ingridients
Dough
375 g.
0,5 glass
200 g.
100 g.
100 g.
1 шт.
1 tsp.
1 tsp.
Filling
2 шт.
1 spoon
1 tsp.
1 tsp.
To grease
1 шт.
Apple season came, how not to use it and not to treat family with delicious dessert.


The fact that soon will be autumn show cool evening and ripe apples…

Preparation
Let`s start:
Sift flour in bowl.
Add sugar.
Half of curd.
Next margarine.
Then sour cream, sugar, egg, soda, vanilla sugar.
By recipe dough should be kneaded, no to be sticky.
I knead with fork, I liked it`s look (and it was fine).
Cover dough and put in the fridge for 30 min.
30 min is not a short period of time, during this time you can wash dirty dishes, remove dry clothes and hang wet, make and drink tea, heat the oven to the desired temperature, and prepare apples.
I poured sliced apples with lemon juice, no to make them dark.
Grease form with butter (margarine).
Spread ⅔ of dough in form.
Next spread apples.
Sprinkle apples with sugar and cinnamon.
Roll rest of dough, and cover our pie.
Grease pie with mixed yolk.
Put in the heated oven for 30-45 min.
Watch, not to burn it.
Cool the ready pie.
In such heat serve with ice cream,
Very refreshing…
544

23 August 2010, 20:58