Maize bread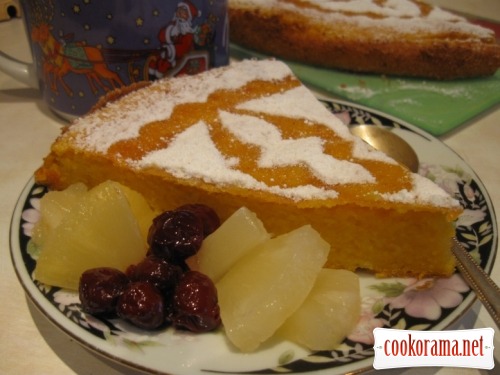 Ingridients
300 ml
200 ml
200 ml
0,5 l
1 spoon
1 spoon
2 шт.
0,5 tsp.
0,5 tsp.
1 spoon
Preparation
Boil milk in saucepan, add cornmeal, stir well, boil for 3-5 min. Leave for 1- 1,5 for swelling and cooling.
Add egg to cereal, sugar, vanilla sugar, butter and stir well
Next add flour, pumpkin puree, salt, soda and stir again.
Grease form with lard, sprinkle with ground crumbs, spread maize bread, grease with mixed egg.
Bake in heated at 180-200℃ oven for 45-50 min till golden brown.
Let it cool in form for 5 min, shift on board, sprinkle with sugar powder(it is possible through the stencil)
Cut in portion pieces. You can serve with canned fruit, sour cream, or with milk.
Bon Appetite.