Homemade bread from apple ferment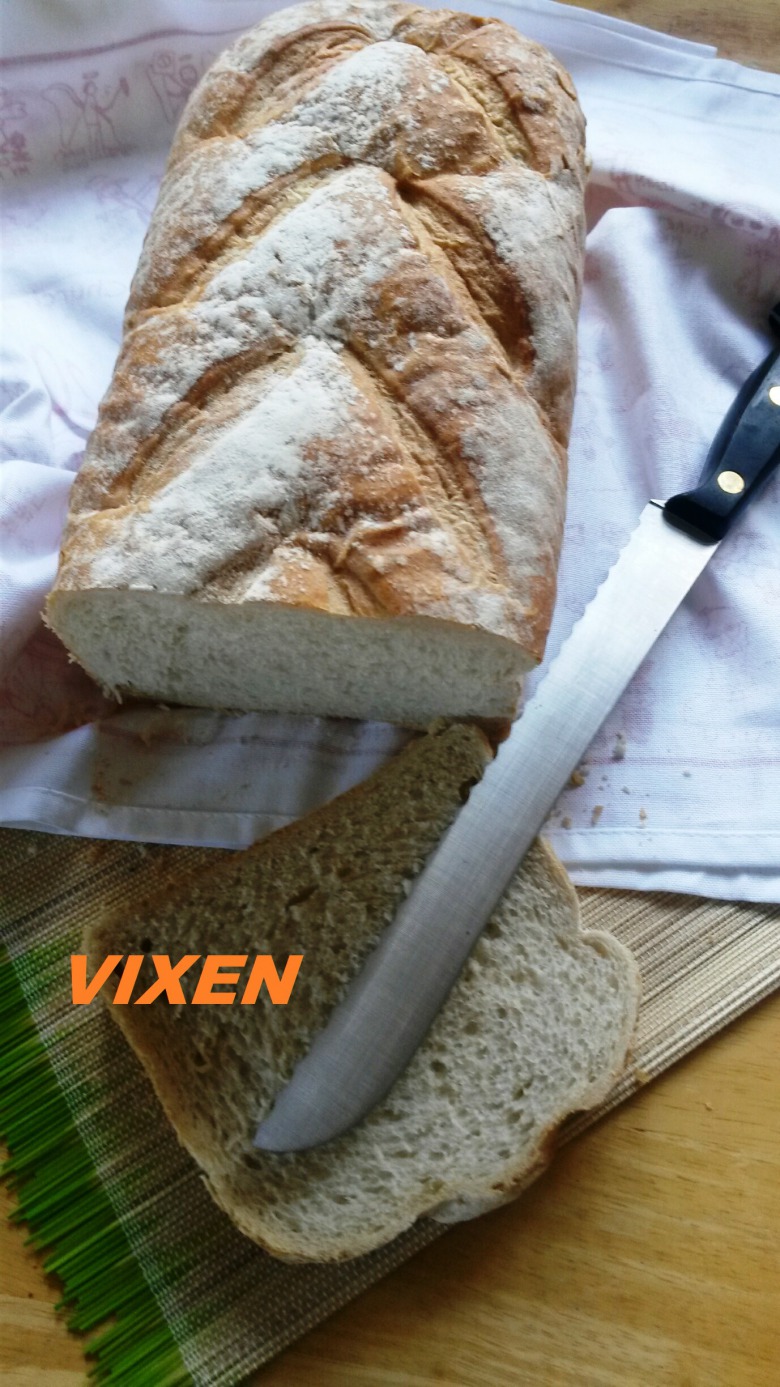 Ingridients
Ferment
4 шт.
200 g.
Dough
1 glass
1 glass
1 tsp.
1 spoon
0.8-0.9 kg
Once on the Internet I found a recipe of apple leaven for bread and decided to try it. The process of making look easy, but it seems to me too long, so I decided «to speed up» it a little.
Bread turned out delicious, with good texture and slightly sweet


I took wheat flour, special for baking bread, but I think that bread will be incredibly delicious with any of your favorite flour (bran, rye, whole wheat...

)

Preparation
Dice apples coarsely (author even advised not to peel them), fill glass bowl (or jar) and pour with warm boiled water (0.5 l). I also added 1 tsp of sugar.Close the jar with lid and put in warm place (author advised for 5-7 days, periodically stirring and «sniffing» to smell, which should be apple with slightly sour and not «sour "

I had made in my own, left in a warm place for 3-4 hours, then poured in a clay pot with a lid (metal is not advised for process ,even spoon should be wooden) and put in a preheated at maximum (but turned off!!! ) oven and left there for all night.
Liquid in the morning was unclear, with a good smell of apples. I drained it, threw apples out and added little flour to dilute leaven to a state of "thick cream». Again, departing from the recommendations of the author, put leaven in a warm turned off oven been, for about 2-3 hours. On the surface formed little bubbles, I stirred it well (with wooden spoon) and added in it 100g flour mixed with 100g warm water (the author calls it «activation») and then put it all in a warm oven (for 2-3 hours) The author recommends to «activate» leaven 3-4 times, but I still did once.
Leaven is ready, it can be refrigerated and «activated» before use (flour 100g + 100g warm water + in a warm place).
For bread I have mixed glass of leaven with a glass of warm water, salt, sugar and flour. Kneaded «bun», put in a warm place for «rising» (incresed twice) again stir well, formed flat cake, put it in a greased with oil form and left for 20 minutes to «rise» a bit. On top greased with strong tea brew, made cuts, sprinkled with flour and put in the oven. Bread was ready in 30 minutes. (baked at 180 ℃), and you see on your oven.
Bon Appetite!!!