Cake Hedgehog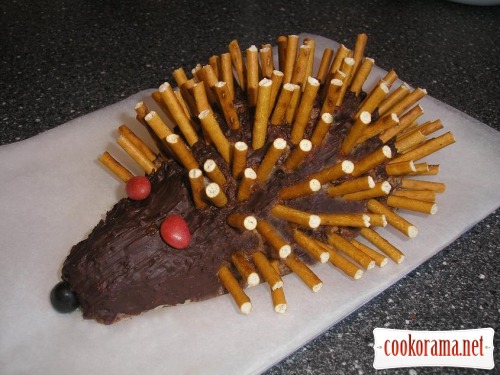 Ingridients
1 glass
1 glass
4 шт.
10 g.
200 g.
50 g.
200 g.
1 шт.
1 шт.
50 g.
Preparation
Prepare biscuit flatcake. For this mix sugar, flour, eggs, baking powder, vanilla sugar (you can add 2 tbsp of cocoa, and then cake will be brown). Cover bottom of convertible form with baking paper. Grease sides of form. Pour mass in form and bake at 180 C for 30 min.
Cut ready cooled cake in small pieces.
Prepare cream. For this mix sour cream with sugar powder. Add in cream chopped fruit. Mix cream with cut cake, to get mass, which suits for molding.
Mold from biscuit mass hedgehog. Smear it with melted chocolate. Put sweet straws instead of needles. Make hedgehog nose and eyes from dragee. Put in the fridge for 2-3 hours.