Candied roasted nuts cake (like Roshen)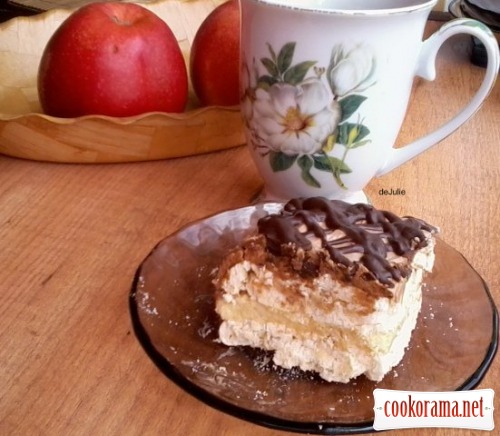 Ingridients
Cake
4 шт.
200 g.
100 g.
Cream
1 шт.
100 g.
0,25 glass
130 g.
1 tsp.
1 tsp.

candied roasted nuts (grind)

3-4 шт.
I looked for this recipe for a long time, but it was useless: (But I found recipe of «Kiev cake» according to GOST, which was the basis for my " Candied roasted nuts cake "!

Preparation
Flat cake
According to GOST should leaven whites for 12 hours, but I can`t understand, how does it help. I did both ways – no difference, the main thing is to dry meringue well, not to make it viscous inside.
So, mix whites into foam, stirring, add few drops of lemon juice. Gradually add sugar powder and mix well. Pour grind nuts to whites and mix.
Bake meringue for 2 hours at 100℃.
Cream (as Charlotte, but with condensed milk)
Pour 1/2 glass of condensed milk and 1/4 glass of water, to get about 150g of sweet milk. Mix well «milk» with egg by fork or on the lowest speed of mixer. Put on a low heat (better on water bath) and bring to boil, always stirring. When mass thickens, cool till room t and drain, if clumps appear. Mix soft butter, adding egg-milk syrup and candied roasted nuts. Separate part of cream and add there cocoa, and in other part — cognac. By the way, with butter of 72% fat cream remains more fabric one, than with butter of 83%.
Cake assembly
Smear cakes of meringue with candied roasted nuts, and cover surface with chocolate- candied roasted nuts cream, decorate with chocolate.
From this amount of products you`ll have a small cake.