Chocolate honey cake "Ladies fancy"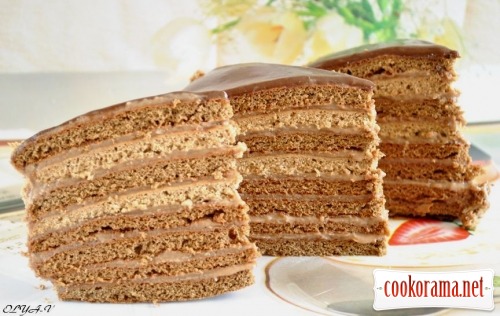 Ingridients
Cream
2 glass
2 шт.
0,5-1 glass
10 g.
2 spoon
1-2 spoon
100 g.
200 g.
Dough
3 шт.
0,5-1 glass
3 spoon
2 tsp.
60 g.
3 spoon
2-2,5 glass
Glaze
2 spoon
2 spoon
2 spoon
30 g.
1 spoon

The recipe is by Aliy from forum SAY-7, very gentle and tasty cake!

Preparation
At first boil custard. Whisk in the saucepan into smooth mass sugar, flour, milk, vanilla sugar and eggs, stirring boil till thickening over a low heat but avid a boil, then remove from heat and add cocoa, whisk well. Put cream to cool (you can put it in bowl with cold water).
Now dough and flat cakes. Whisk in the saucepan sugar, honey, eggs, soda and butter, put all on water bath, stirring well boil for 5 min, till mass becomes smooth. Remove from bath, add cocoa and mix well, pour portions of sifted flour, at first mix with spoon till mass becomes viscious, then shift on table and adding flour knead dough, it should be soft, divide it in 8 parts.
Heat the oven at 180 C, cover baking sheet with parchment, sprinkle with flour a bit.
Roll thin flat cakes, cut by plate with size of 19.5-20 сm, roll another layer from remnants, you`ll make crumbs from it.
Bake flat cakes for 3-5 min, they are baked quickly. Cool it.
Add in cream softened butter and mix well. Finely chop nuts.
Generously smear flat cakes with cream and sprinkle with nuts, by 2-2.5 tbsp of cream for each flat cake, do not smear the upper flat cake, leave some cream for sides.
Mix in the saucepan all the components for glaze, boil,stirring over low heat for 2 min till thickening.
Top cake with hot glaze (it is more comfortable to put glaze in the middle and then spread to edges), remove cake in the fridge for 5 min, to freeze the glaze.
Grind flat cake for crumbs, smear sides of cake with cream well and sprinkle with crumbs.
Let the cake soak at room temperature for 3-4 hours (you can cover it with big bowl), then put it in fridge to cool and freeze.
Enjoy your tea!