Cake "Spartacus"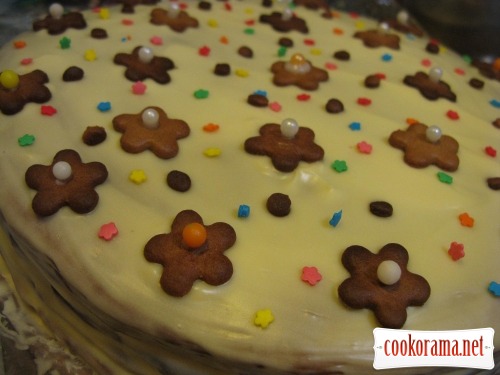 Ingridients
Dough
180 ml
100 g.
4 spoon
2 шт.
300 ml
1 tsp.
2 spoon
800 g.
Cream
1 l
300 g.
3 spoon
Preparation
Heat milk and butter in saucepan, to melt the butter.
Mix eggs with sugar and add to milk.
Constantly stiring, bring to a boil, to dissolve sugar.
Add cocoa and honey, stir well again.
Now gradually add flour, stir with a spoon.
After dough cools a bit, knead by hands soft and elastic dough. I got 1250 g.
Put dough in cold place, wrapped in package. I did not have time, SO I missed this step, and as for me, there is no difference.
Divide dough in 7 parts of 170 g and 60 g I left for decor. I got 28 сm form.
Roll each piece by shape of form.
I do this on inverted bottom of convertable form, you can also cut out a circle of parchment.
Bake each cake for about 8 — 10 min at 180 — 200 g.
For cream mix sour cream with sugar and thickener. I used separated sour cream, so I just stir sour cream with powder and starch, I was afraid, not to make butter.
Smear each flat cake with cream, about 7 tbsp for each flat cake.
Smear sides and top well.
Decorate as you wish.
I baked from dough flowers and small peas, also used sugar powder and pearls.
Bon Appetite to all

I dedicate this cake to my son Yuri, on Saturday we had the first dancing competition and we won the golden medal!!!