Cake "Spartacus"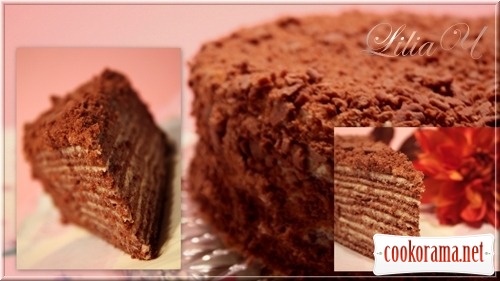 Ingridients
Dough
50 g.
3 glass
2 spoon
2 spoon
1 glass
1 tsp.
1 шт.
6 spoon
Cream
300 g.
1,5 glass
1 шт.
0,5 l
2 шт.
2 spoon
Delicious sweet cake with honey and chocolate shortcakes


Preparation
Mix 3 tbsp of flour, 2 tbsp of cocoa and 1 tsp of soda.
Separately mix 6 tbsp of milk, 2 tbsp of honey, 1 tbsp of sugar, 1 egg and add 50g of butter. Put on water bath and cook, till dilution of sugar, constantly stirring. Remove from heat and cool a bit (dough should be warm).
After dough cool a bit, mix with flour, cocoa and soda. Knead dough (the dough is not that tight).
Divide dough in 10-11 parts. Roll thin flat cakes and at once cut to a circular plate. Carefully shift on baking sheet (with the help of a rolling pin), because flat cakes are thin.
Bake all the flat cakes.
Cream:
mix 0,5 l of milk, 2 eggs and 2 tbsp of flour. Put on water bath and, constantly stirring, cook, till thickening of mass. Remove from heat and cool it.
Mix 300g of butter with sugar powder. Add grated lemon and cooled mass. Mix all well.
Smear the flatcakes and decorate as you wish.
source is Nataly Panda from jazzcook