Cake "Prague"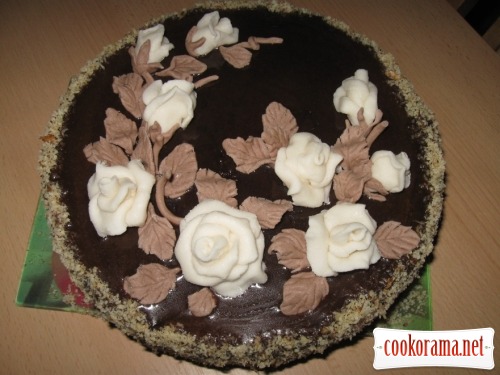 Ingridients
Flat cakes (for 1 pcs)
400 g.
2 шт.
1 glass
3 spoon

baking soda (lime with vinegar)

1 tsp.
Cream
1 шт.
2 spoon
250 g.
Chocolate fudge
0,5 glass
3 spoon
25 g.
50 g.
Flowers
6 spoon
0,5 tsp.
Preparation
Dough:
Mix all, grease from with lard, pour dough and bake till readiness. Bake two flat cakes, after cooling, cut each in half.
Cream:
Mix all, to get smooth mass and cook on low heat (do not boil!) to get smooth thick mass.
Cool it. Mix 200-230 g of butter with 1 glass of sugar and 3 tbsp of cocoa, at the end with the help of spoon add custard mass.
Grease flat cakes and sides of cake with cream, top cake with chocolate fudge, decorate with flowers.
Chocolate fudge:
Flowers: mill6 spoons of sugar in powder, add 0,5 tsp of egg white, and a drop of diluted gelatin. Knead «dough» and mold flowers. You can add food colorings, cocoa.