Cake "Heart"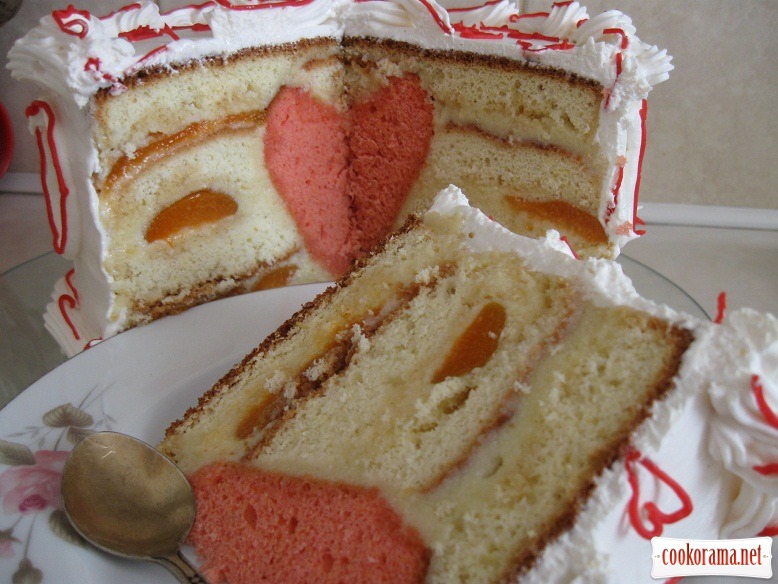 Ingridients
Biscuit
6 шт.
200 g.
200 g.
Biscuit insertion
1 шт.
3 spoon
35 g.
Butter cream
200 ml
200 ml
3 шт.
3 spoon
200 g.
1 spoon
Custard protein cream
2 шт.
30 ml
140 ml
3 g.
Ingridients
0,5 l
Congratulations to all and Happy Valentine's Day! Let love always surrounds you gently and tenderly.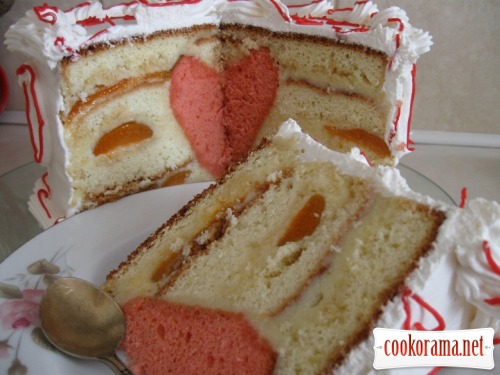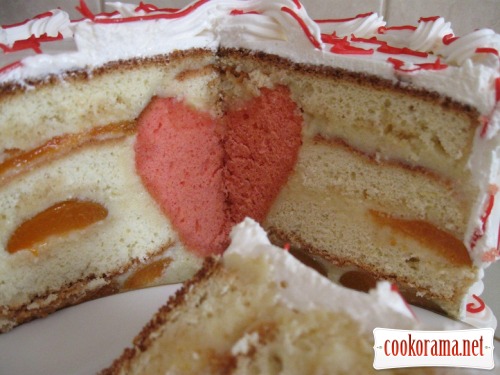 I see that many people like sweets with surprise. And therefore I offer a way to «hide» heart in the cake. The idea came after seeing a foreign culinary site where the heart was formed from biscuit crumbs. With some practice, I propose this option, maybe someone like it

Preparation
When I was going to bake this cake, I wanted to make it of small diameter and bake all the blanks at once. In the absence of such a form, I made side of form from foil and printer paper (fix paper with clips or staples). Cover metal pan with paper and put a homemade side. In such a self-made form without any problems can be baked classic biscuit. Form for heart blank is also from paper, rolled into a cone and placed in metal one for cakes.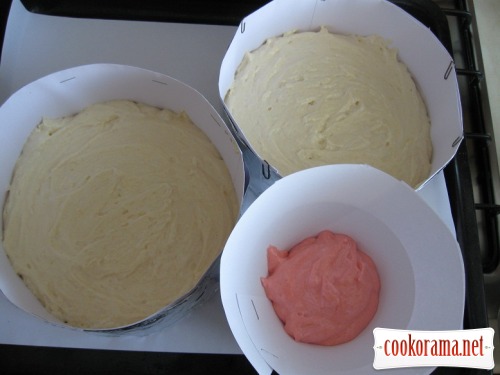 To bake all the blanks for cake at once, biscuit and biscuit blank mixed simultaneously (in parallel).
Separate whites from yolks, mix into steep foam. Continuing to whisk, in several portions add sugar and mix into steep foam (whites do not pour out from the upside down dish ). Mix yolks, pour to whites, sift flour on top. Stir with a spoon from the top down and put into form. (up to biscuit blank at phase of mixing whites with sugar add a dye).
Bake in heated to 180 ℃ oven for 30 min.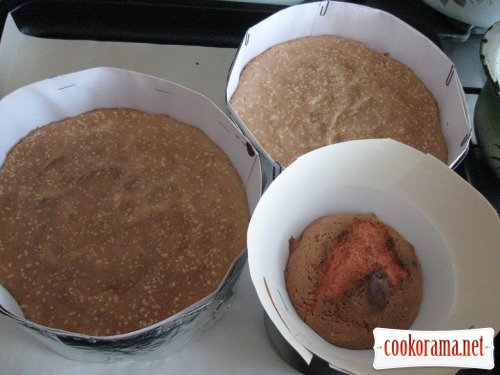 We got two biscuits D 18 сm, height 4 сm and blank for heart.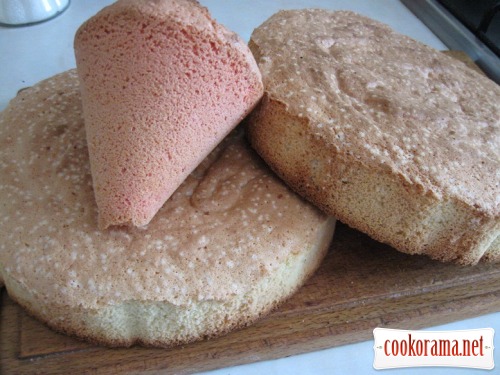 Cut each cake in half horizontally. Cut off deepening in biscuit insertion in upper part and slightly cut the edge. Put three biscuit flat cakes on each other and cut out cone, so, that blank easily «sit» in it. Take crumb out by diameter of blank in last upper flat cake. Cut out small cone from remnants of flat cakes, to put it in upper deepening of blank.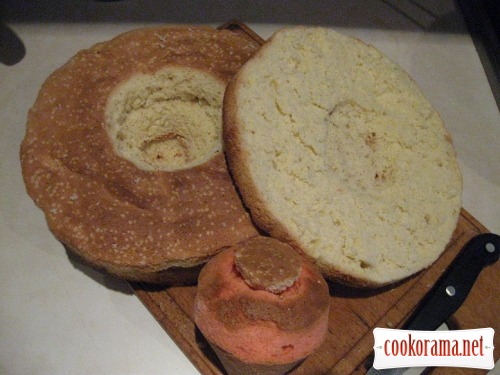 Soak flat cakes with syrup with cognac (about 70 ml of syrup and 1 tbsp of cognac), do the same with insertion.
Buttery custard:
Heat milk, separately mix egg, sugar and flour, pour egg mixture in hot milk and boil over low heat till thickening, cool it. Mix butter and, continue mixing, add spoons of custard, at the end of mixing add cognac.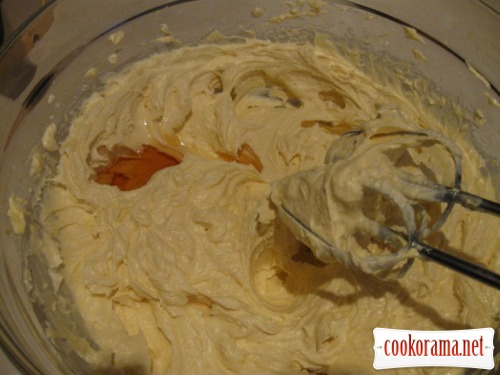 Smear with cream 3 lower flat cakes, covering each with pieces of apricots.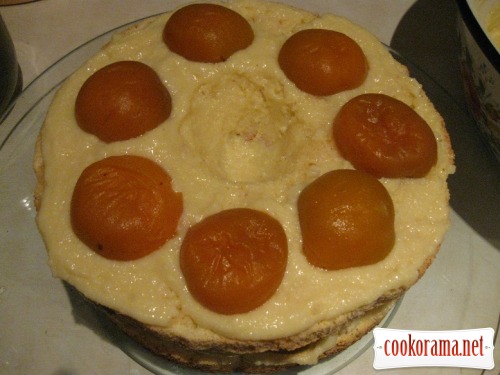 Put insertion in center.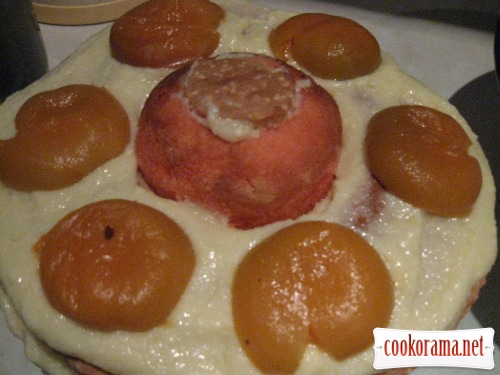 Cover with upper flat cake, smeared with cream. Put in fridge for cooling.
White custard:
Pour water in container, add sugar and boil over strong heat syrup to sample solid ball, pour citric acid, let it boil for a couple of waves.
Mix whites into steep foam and continue mixing, pour syrup. Put container with cream in container with cold water and mix cream till it`s cooling.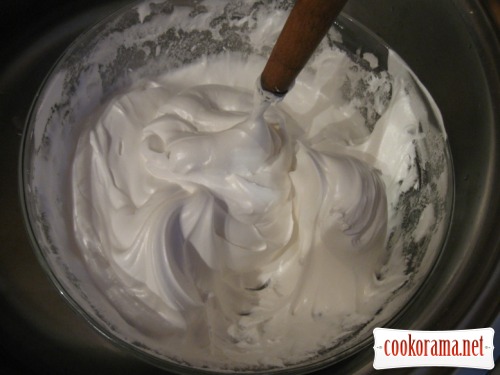 Smear top and sides of cake with white cream, smooth it. Put reast of cream in pastry bag and decorate the cake. I wrote on sides of cake " I

COOKORAMA" with sugar pencil of red color put contours and draw little hearts.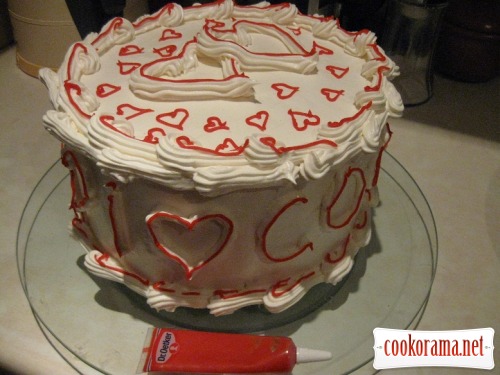 Enjoy it.