Cake "Fruit under the snow"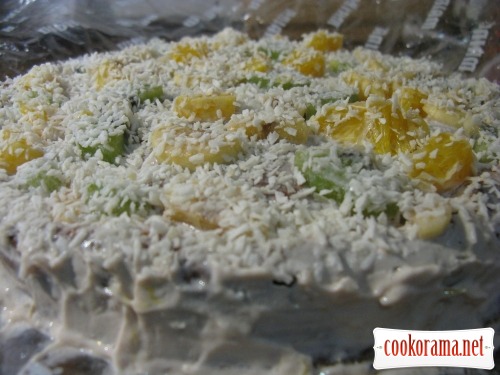 Ingridients
Dough
185 g.
150 g.
5 шт.
250 g.
10 g.
280 g.
Cream
500 g.

thickening agent for sour cream

75 g.
Ingridients
1 шт.
1 шт.
1 шт.
Preparation
Heat the oven at 180 — 200℃.
Grease form with butter and sprinkle with flour, put in the fridge.
Mix yolks with half of sugar.
Add melted butter, yogurt, soda, peel and flour.
Stir well.
Mix whites into steep foam, gradually add sugar, mix again well, to dilute all sugar.
Add to dough and stir gently.
Pour dough in form, I got 28 сm.
Bake to readiness, check with toothpick.
You can bake 3 flat cakes at once, but I didn`t have time.
Cool flat cake and remove from form.
Cut in 3 parts.
Mix for cream yogurt with sugar and thickener.
Add chopped fruit, stir it.
Flat cakes do not need extra impregnation.
Smear flat cakes with fruit cream, also leave for the upper flat cake.
Sprinkle with coconut or grate with white chocolate.
Let it stand for some time.
Very tasty and easy in preparation cake.