Pancake cake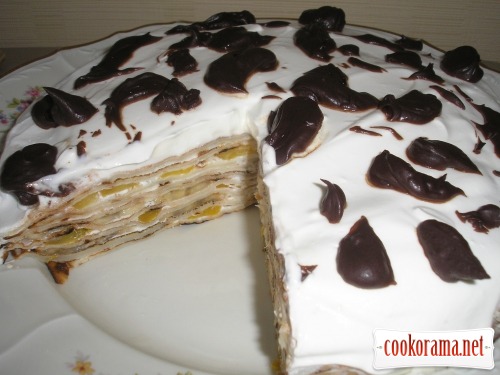 Ingridients
0,5 l
5 spoon
1 шт.
10 spoon
50 g.
800 g.
2-3 шт.
400 g.
Preparation
At first prepare pancakes. For this mix milk, 2 tbsp of sugar, vanilla sugar, egg, 3 tbsp of oil, about 10 tbsp of flour. Dough should be like very liquid sour cream. Bake pancakes in well heated pan.
Then prepare cream. For this mix sour cream and 3 tbsp of sugar (you can take more sugar). Cut banana and peaches in thin slices.
Spread pancakes on dish. Smear each pancake with cream and put alternatively banana and peach. You can use any fruit.
Generously grease with cream last pancake and sides. Put in the fridge for 30 min.
Melt chocolate on water bath. Sprinkle cake with hot chocolate and put in the fridge for 1-2 hours.
554

13 August 2010, 08:44