Cake "Vitamin Hill"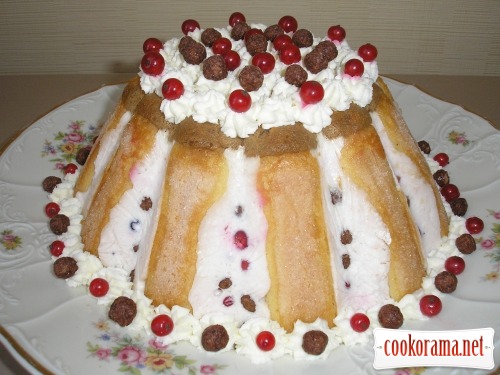 Ingridients
Ingridients
100 g.
2 tsp.
20 g.
200 g.
600 ml
7 spoon
100 g.
100 g.
400 g.
Decoration

cottage cheese bar (vanilla)

2 шт.
Preparation
At first prepare coffee. Pour 2 tsp of instant coffee with 100 ml of hot water (without sugar) and let it cool.
Now wash currants. Cut peaches in pieces. Dry fruit, so that they have as little as possible liquid.
Soak gelatin in 50 ml of peach juice for 10-15 min.
Meanwhile cover form with food film.
At the bottom of the form spread dipped in cooled coffee cookies as tight as possible. Cookies will soak and become very soft, you should just dip it in coffee. Spread cookies at the sides of form. Do NOT dip these cookies in coffee.
Mix sour cream with curd and sugar (it`s not necessary add curd in cake, I did not feel it at all). Heat swelled gelatin on a low heat, but do not bring to boil. Gelatin will be liquid. Let it cool a bit (for 5 min) and add gelatin in sour cream. Mix all well. Now add fruit and balls of Nesquik to sour cream and mix again.
Carefully pour fruit-sour cream mass in form. Put in fridge till complete freezing (I put for a night). When cake hardens, carefully cut away the protruding cookies.
Flip cake on plate, remove form and carefully put film away from cake.
Decorate cake as you wish. That's how the cake looks like in section.