Date cake with nuts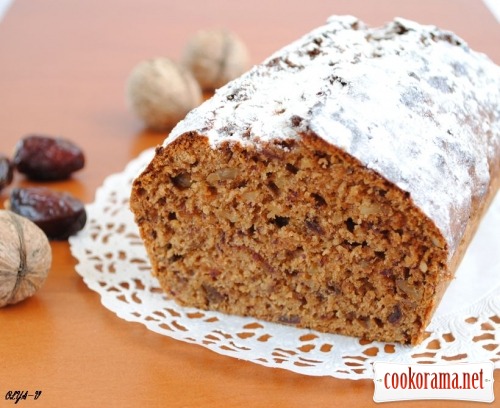 Ingridients
200-250 g.
2 шт.
100-150 g.
200 ml
0,5 glass
60 g.
1 glass
0,5 tsp.
1 tsp.


The original of recipe is here, I just changed it a bit for me.

Preparation
Сlean вates from seeds and finely chop.
Combine in saucepan sugar, water and butter, bring to boil, add dates, stew over low heat for 10 min, till dates become soft, then shift mixture in bowl and let it cool, so it is slightly warm.
Heat the oven at 180℃, if the from is from metal then cover it with oiled parchment.
Add in cooled mass eggs (only aftes stirring one, add another), add salt, nuts, sifted flour, soda and baking powder, stir to get smooth viscous dough.
Shift dough in form, bake till readiness (Mine baked for 1 hour and 5 min), not to burn top a lot, cover it with parchment.
Shift ready cake on stove, cool it down, sprinkle with sugar powder.
Cake turns out very tasty, flavored with caramel flavor.
Enjoy your tea!