Cakes "Pear in chocolate"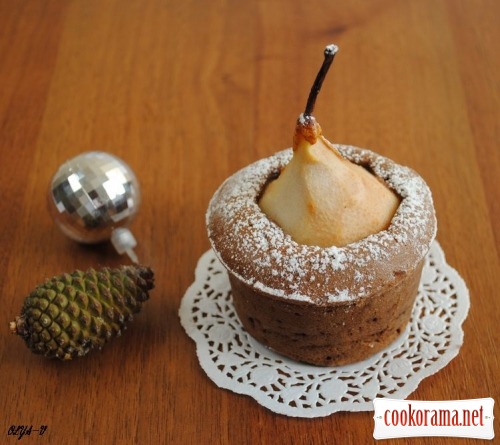 Ingridients
6 шт.
40-50 g.
125 g.
100-150 g.
2 шт.
2 spoon
125 g.
0,5 tsp.

instant coffee (dissolved in 1 tbsp. of warm water)

1 tsp.


The recipe is from site «Deli».

Preparation
Cover bottom of ceramic molds with circles of parchment, grease walls with butter and sprinkle with flour.
Heat the oven at 180℃. Peel pears, carefully cut off bottom (save it) and carefully remove cord with seeds, then sprinkle pears with lemon juice, to avoid darkening.
Mix softened butter with sugar, add egg and coffee, stir it, you can add pinch of vanillin.
Mix flour with baking powder and cocoa, sift over butter, stir it, you should get smooth viscous dough.
Put in middle of each pear pieces of chocolate and cover with cut botoms.
Spread dough in molds in half, put pears in dough and press them a bit.
Bake for 30 min, till readiness, check with wooden toothpick, if it is dry than cakes are ready.
Let the cakes cool in molds a bit.
Moving knife by side of mold and remove cake from mold, shift on stove to cool.
Sprinkle with sugar powder before serving.
Enjoy your tea, it is very effective and delicious dessert!