Pampushki with garlic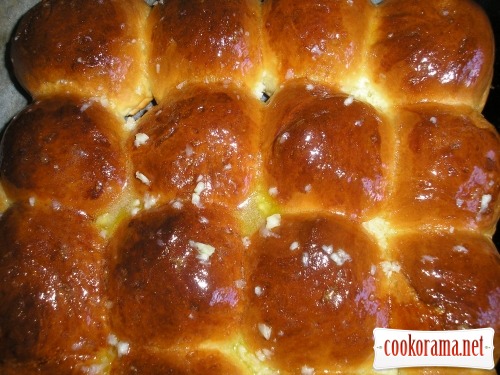 Ingridients
50 g.
300-400 g.
5 spoon
0,5 tsp.
0,5 spoon
2 шт.
0,75 glass
2-3 шт.
Preparation
At first mix yeast with heated milk and sugar, let it stay for 15 min. Add to yeast 1 egg, 2 tbsp of oil, salt and flour. Knead dough well, till it becomes not sticky. Make ball from dough and let it rise in warm place for 1 hour.
Cover baking sheet with baking parchment and smear it with oil. Tear from dough small pieces, roll them in balls and spread on baking sheet close to each other.
Smear balls with mixed eggs and let them rise for another 20-30 min.
Bake at 200℃ for 30 min.
While baking them, prepare sauce. To do this press garlic, add 3 tbsp of oil and few pinches of salt, mix well.
Smear ready hot pampushki with garlic sauce.