Beetroot pampushki with garlic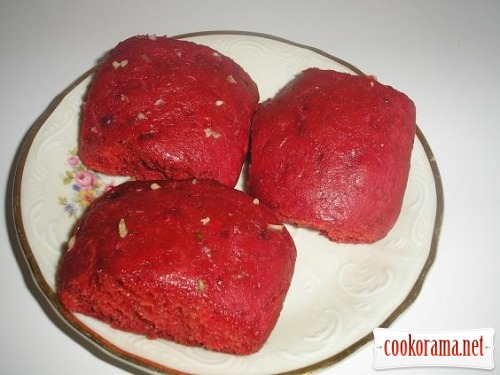 Ingridients
2 шт.
0,3 glass
11 g.
2,5 glass
1 шт.
7 spoon
0,5 tsp.
1 tsp.
2-3 шт.

I tried a lot to get bright color of baking, as Medunya, but it was successful only with boiled beetroot.

Preparation
Grind beetroot in blender or grate it.
Mix flour with yeast, salt and sugar. Add egg.
Add beetroot, milk and oil. Knead dough and leave it for 30-40 min.
Then take from dough small pieces and, roll a ball, spread on baking sheet. Let it stand for another 30 min.
Bake at 180℃ for 15-20 min.
Press garlic and mix with olive oil.
Grease ready pampushki with garlic oil, while they are hot.