Pampushki with garlic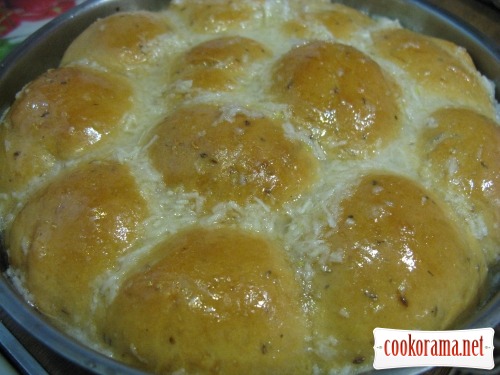 Ingridients
Dough
300 ml
3 glass
30 ml
1 tsp.
1,5 tsp.
Pouring
3-4 шт.
20 ml
20 ml
Preparation
Mix all the ingredients for dough
And knead soft, elastic, a bit sticky dough. Do not add too much flour.
I add oil at the end, when dough is formed in ball, so practically it does not stick to hands and can be knead well.
Heat the oven at 40℃!, put our dough in big bowl,
sprinkle with flour and cover with towel. Put in the oven for one hour, to let it rise.
Knead dough, grease hands with oil and knead again.
Divide in pieces.
Grease baking form with oil and spread there future pampushki.
Let them rise and grease with milk or eggs.
Let it stand for another 15 min, and put in the oven.
Bake at 180 — 200 ℃ for 30 min, to blush crust.
Prepare filling: chop garlic, stir with oil and water.
To save a crispy crust, pour pampushki when they slightly cool down.
And to reduce a bit residual odor after garlic, pour hot pampushki and put in turned off oven. But then they will not be crispy.
Unusual yum for fans of garlic