Pancakes with meat and rice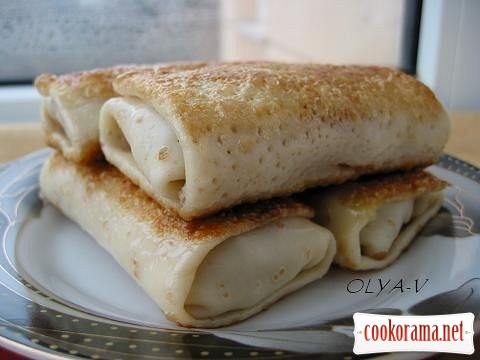 Ingridients
Dough
0,5 l
0,5 l
3 шт.
4 spoon

baking soda (hydrated with vinegar)

0,25 tsp.
1 tsp.
0,5 tsp.
2 glass
Filling
500 g.
0,5-1 glass
Preparation
Mix in deep bowl milk, water, eggs, oil, sugar, salt, soda and flour, mix well, to avoid clumps. Put dough in the fridge at least for 1 hour.
Boil meat, add in water bay leaf, ground pepper and black pea pepper, do not pour our broth from meat, we will need it.
Next mince meat, add rice, salt and ground pepper to taste, then pour some meat broth, for filling not to be dry (about 50 ml), but also do not pour too much.
Stir dough again well, bake thin,gentle pancakes, fry till golden color from one side, fry second just a bit. Smear ready pancakes with some butter from fried side.
Then fill pancakes with stuffing (about 1 tbsp), wrap in envelope.
I fold pancakes in saucepan, keep in fridge, fry in oil till golden color if necessary.
So you can prepare pancakes for the future, and you will always have a ready breakfast or dinner.
Bon Appetite!