Baked pancakes with meat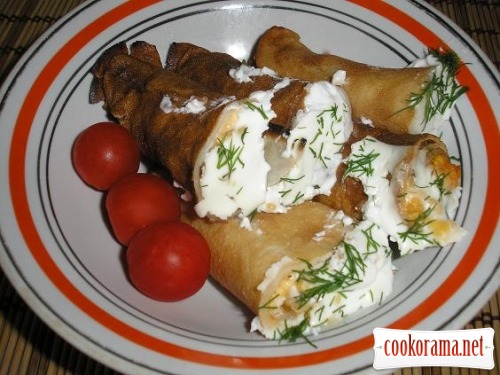 Ingridients
Pancakes
0,5 l
3 spoon
1 шт.
4 spoon
10 spoon
Filling
300 g.
1 шт.
1 шт.
3 spoon
3 spoon
150 g.
Preparation
Mix all the ingredients for pancakes. The dough should have the consistency of liquid sour cream. Make pancakes.
Boil chicken fillet and grind in blender (or mince it).
Chop onion, garlic and dill and fry with fillet.
Mix ketchup with mayonnaise and add in meat mass. Mix well, salt, pepper to taste.
Spread stuffing in each pancake (about 2 tbsp), roll in tube and cut in 2 parts. Grease form with butter and spread halves of pancakes closely to each other.
Pour pancakes with sour cream and put in heated at 180 C oven for 20 min.
Sprinkle ready dish with greens and serve it.