Cutlets from rabbit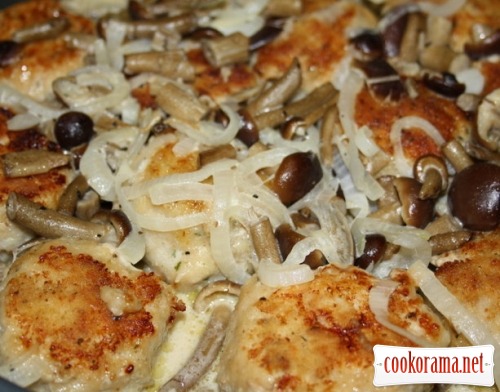 Ingridients
2 kg
200 ml
2 шт.
300 g.
100 ml
1 шт.
Preparation
Cut rabbit flesh in 6-8 parts, wash and dry, then separate bones from meat. Pour bones — 1 l of water and boil broth (ad salt, black pea pepper and bay leaf), then strain through a sieve. Meat + liver and kidneys, add one egg and 50 ml of vine grind in blender, salt and pepper to taste. Form small cutlets (12 pcs) – roll in breadcrumbs and fry for 5 min from each side.
In a frying pan fry sliced bulb onion and mushrooms, add broth (300 ml), vine and stew — 15-20 min. Add spices and sour cream, stir well.
Shift cutlets in ceramic form, pour with sauce and put in the oven for 20 min (180℃).
As a side dish is perfect boiled potatoes or buckwheat. Bon Appetite.
Of the remaining broth, it turns out most wonderful сarrot soup with herbs and croutons.