Roll from liver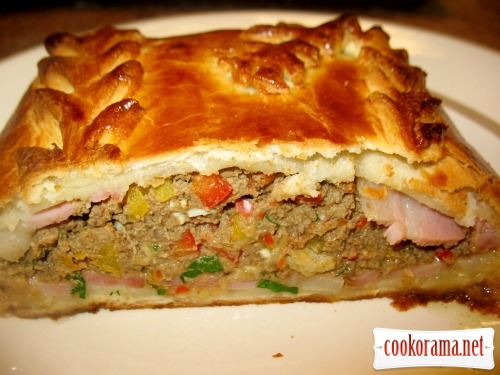 Ingridients
Preparation
Take 500 g of beef liver, boil it:
Clean the liver, once it boils at first-in 10 min, drain water and pour new one. It`s preparation takes about an hour.
Mince boiled liver, dice 2 Bulgarian yellow and red peppers,1 onion,1 egg,greens,
Add some cream, to handle the shape.
Roll puff dough,put on it bacon or breast, form roll on top from prepared mass.
Top roll with breast.
Wrap roll in envelope.
Spread ready roll seam down on baking sheet.
Decorate it, grease with egg and put in the oven for 15 min at 180℃.
Ready!!!!)
Very easy and quickly. Roll can be prepared not only from liver, but from fried mince, fish with mushrooms. As you wish.
I served with rice.