Maximum curd roll with jam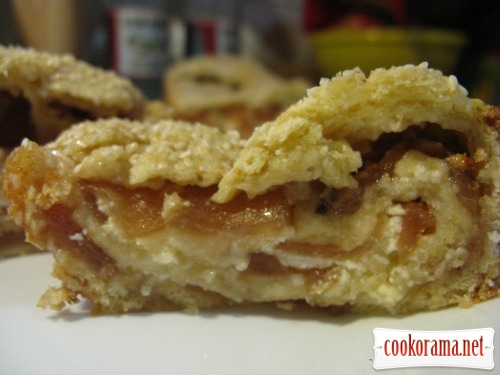 Ingridients
Dough
100 g.
100 g.
1 шт.
1 spoon
1 tsp.
Filling
150 g.
1 spoon
Sprinkling
Preparation
If you want, grind curd, I do not do that.
Combine all the ingredients and knead dough.
Roll it and sprinkle with soda.
Make a roll, then snake, carefully knead again.
Roll dough in rectangle.
Smear with jam, put more.
For stuffing mix curd with sugar or honey.
Spread on jam, step from the edge a little.
Make roll and put in form. Or do not use form, but then it will spread during baking.
Sprinkle with sugar and sesame seeds if desired.
Bake for 25 min at 180 — 200 C.
Let it cool, remove from form.
Bon Appetite

The result was extremely tasty and gentle roll. To tell the truth did not expect from such a set of products such gentle results. We all liked very much.
I had liquid jam, so the dough broke a little when I shifted it in form, but it's not terrible. So, take the jam not liquid and not too sweet.
I think that soda can be immediately kneaded in the dough, but I was surprisingly nowhere in hurry, so decided to have fun.