Pea soup with croutons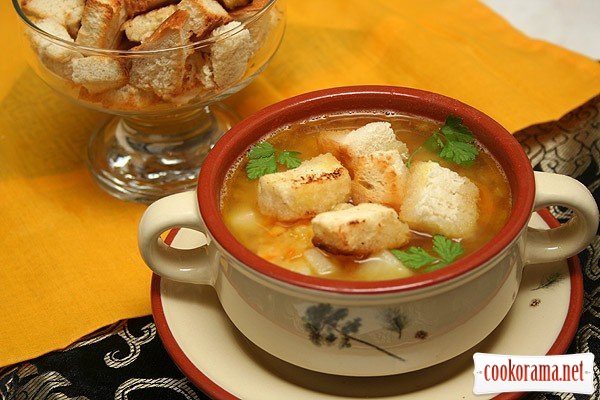 Ingridients
250 g.
700 g.
250 g.
1 tsp.
250 g.
300 g.
1 шт.
100 g.
1 шт.
200 g.
300 g.
50 ml
4 шт.
20 g.
Preparation

1. Soak peas in water for a couple of hours, and preferably overnight.
2. While peas are soaked, cook soup. Put meat in saucepan with water, let it boil, cook for 2 min. Prepare boiling water separately for 3 -3,5 l.
3. Then remove meat, drain water, wash saucepan, pour in clean saucepan prepared boiling water, put meat there, bring to a boil and turn low heat. Add peeled onion and carrot, boil for about 2 hours (depends on the properties of meat) to readiness. You can add water, but at the end you should get 2,5 l of pure broth.
4. Once broth is ready, remove onion and carrot and put peas in it, boil for 40-60 min.
5. Peel and dice potato, put in broth. Boil for 15 min.
6. Cut the loin into cubes, divide ribs and add all to the soup. Salt to taste.
7. Chop onion, carrot, sweet pepper.
8. Cut brisket in long strips and fry in empty pan.
9. Next add to fried brisket chopped onion, carrot, pepper and saute over low heat for a few minutes.
10. Add it in soup, boil for another 10 min.
11. That`s all, soup is ready, let`s cook croutons.
12. Dice bread 1х1 сm.
13. Pour oil in pan, flavor it with garlic (press garlic).
14. Add bread, slightly fry and put on a baking sheet, bake in the oven for 10-15 min.
15. Serve with croutons and chopped parsley.
769

22 February 2015, 16:57