Envelopes with mushrooms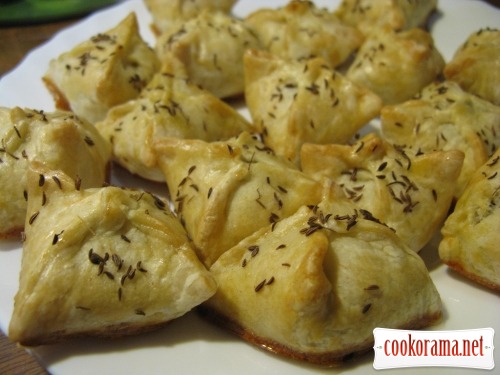 Ingridients
Preparation
Defrost dough in 30 min before preparation, I cut only one strip.
Sprinkle dough with flour and let it defrost completely.
Meanwhile prepare stuffing.
Chop onion and stew in oil till readiness.
Add mushrooms, I got homemade prepared.
Fry a bit with onion, add spices.
Let it cool.
Roll thin dough, sprinkle with flour if necessary.
Cut in squares.
Put mushroom stuffing in each square and pinch them.
Place in form.
Mix egg with pinch of salt and knead our envelopes.
Sprinkle with cumin.
Bake in the oven at 180 — 200℃, for about 10 — 15 min, till brown.
They are tasty cold and warm.
I served with chicken broth.
Bon Appetite

The recipe is very simple, but very useful

630

25 September 2010, 20:45