Envelopes with turkey and brie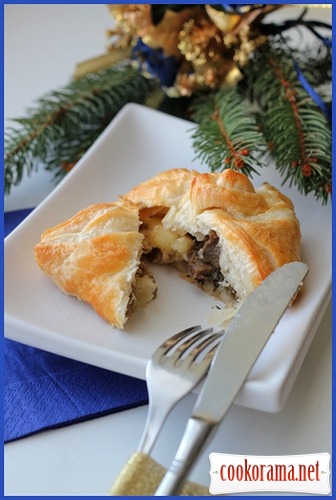 Ingridients
Ingridients
900 g.
800 g.
200 g.
2-3 шт.
1 шт.
Cranberry sauce
100 g.
2 шт.
1 spoon
30 g.
1 шт.
Preparation
This recipe is from the book «About poultry», I changed it a bit due to our tastes and needs. Cut meat from leg, dice it finely and fry til almost ready. Cut brie in small pieces, dried apricots, prunes. Mix in bowl turkey, cheese, jam, thyme leaves, dried fruit, nuts and pressed garlic. Cut each layer of dough in 6 parts, and though it is written on the packs not to roll, roll each layer to a suitable size for stuffing and pinching the edges. If corners unfold, you can pierce it with toothpick. Grease envelopes with mixed egg and put in heated at 200℃ oven for 15-20 min, till they are golden enough. Serve it hot, warm or cold. Heated are also tasty, as fresh. Very nice recipe.
If you did not find ready cranberry sauce or jam, you can prepare it. Basis of recipe is
here
, but based on existing products, I made a little differently.
In small saucepan melt butter, add honey, wait till it melts in good suryp, and stew peeled and diced pears in it a bit. In 5-7 min add cranberries, ginger, lemon peel, pour sherry, to cover fruit, bring to boil, and then stew, to evaporate almost all liquid. Add lemon pepper, juice from half of lemon, heat again, grind with blender into puree, shift in bowl and let it cool. Very good sauce to poultry, and also to soft cheeses.