Dessert "Berries and Chocolate"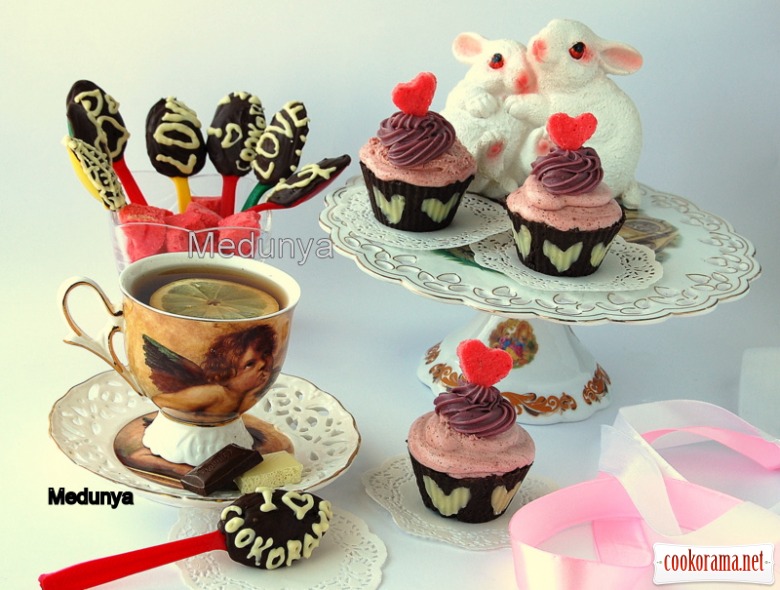 Ingridients
200 g.
200 g.
150 g.
450 g.
25 g.
5 spoon
2 spoon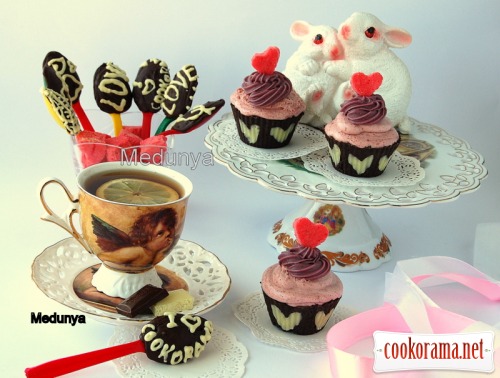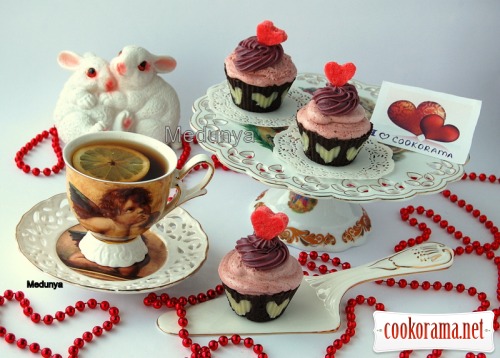 Very nice to finish romantic dinner by dessert that has never let down — berries and chocolate.
But we will not just deep fruit into melted chocolate. I offer something interesting.

PREPARATION
FOR CHOCOLATE BASKETS:
Melt in a water bath, 35 g of white chocolate and put hearts on the inside of the silicone molds for cakes with a wooden skewer (I also put on molds from foil ). Firstly put hearts on one side of the molds. Let them freeze a little, placing the molds «on side» and then put hearts everywhere. Refrigerate for 15min or 5 minutes in a freezer.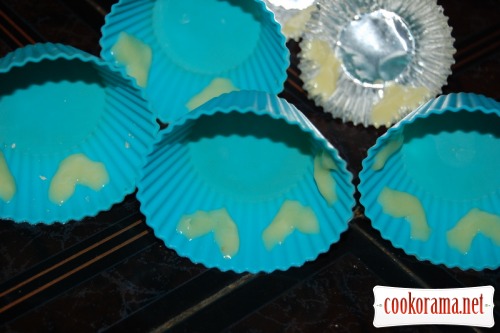 Melt 150 grams of dark chocolate in a water bath and in few steps put the cooled but still flowing chocolate over hearts form white chocolate. The walls of chocolate must not be thin. Refrigerate for 20 minutes or in freezer for 5 minutes.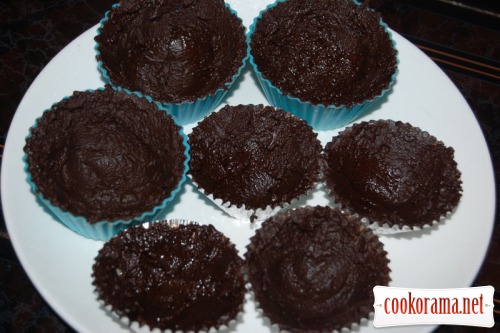 FOR CREAM FROM WHITE CHOCOLATE AND RASPBERRY:
Defrost raspberries, rub through a sieve and evaporate over a fire until the remaining of 3 tb. spoons of puree. Add condensed milk and stir.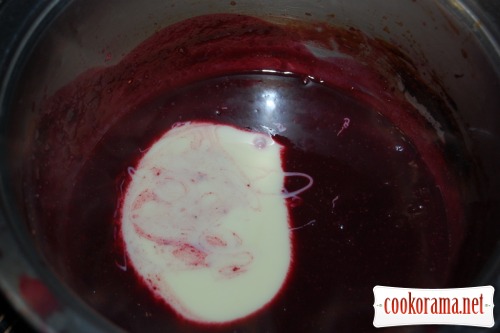 Add broken into pieces white chocolate (130 g) and stir until disappearance of clumps. Cool in refrigerator at least for 4 h.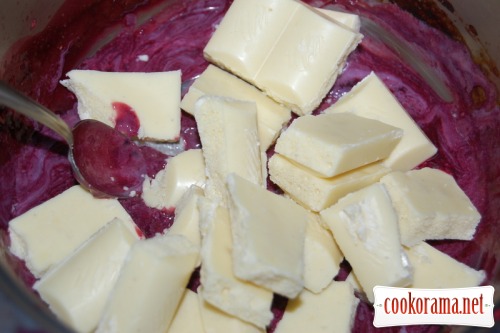 Using pastry syringe put the cream, white chocolate and raspberries on teaspoons. Put in the freezer for 10 minutes.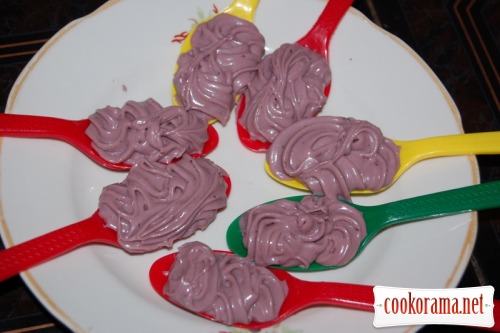 Melt remained black chocolate (50 g), in saucepan with hot water, placing it in a tight little zip. Cut off the tip at the zip and put the chocolate on top of the chocolate-raspberry cream. Cool in freezer for 5 minutes.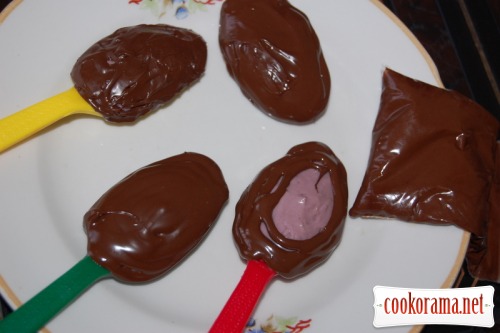 Similarly melt 35 g of white chocolate in zip, cut off the smaller tip and make romantic inscriptions and drawings.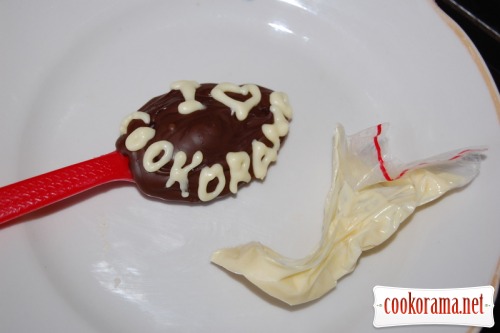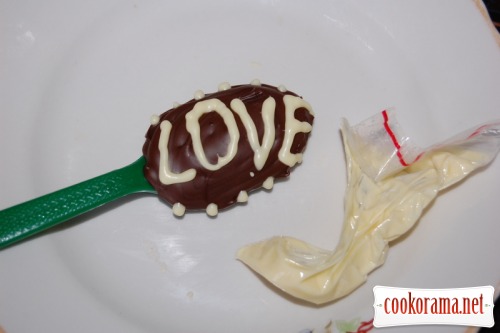 For strawberry cream — defrost strawberries and rub through a sieve. Add sugar, gelatin and boil. Stir until gelatin is completely dissolved.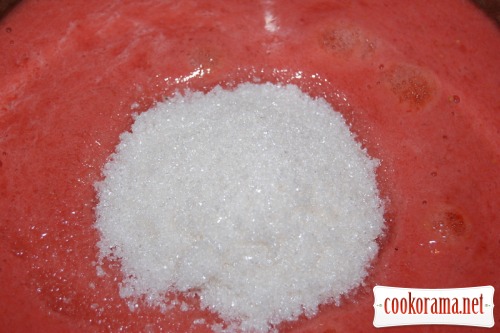 Cool to room temperature and mix until the formation of loose mass within 7-8 minutes.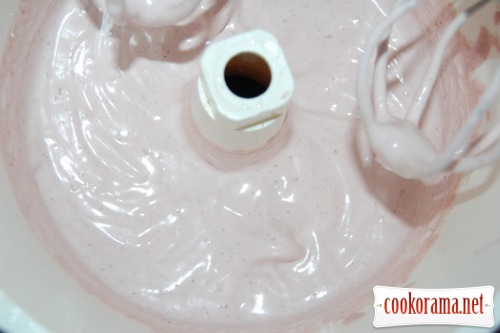 Remove baskets from the refrigerator and gently remove the silicone molds or foil.
Using culinary syringe, squeeze 1 tsp of chocolate-raspberry cream at the bottom of baskets. Put a few raspberries. Top with strawberry cream. On top — again chocolate-raspberry cream. Note that the strawberry cream freezes quickly enough, so work with it quickly.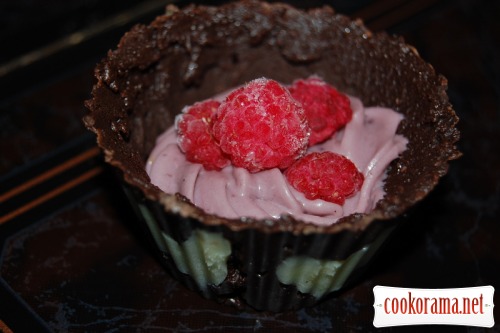 We have ready romantic chocolate baskets with berry cream.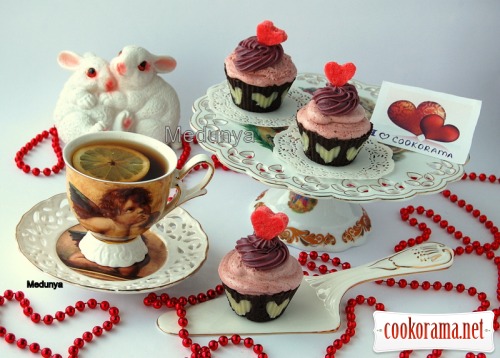 And romantic candy-spoons with beautiful inscriptions and wishes.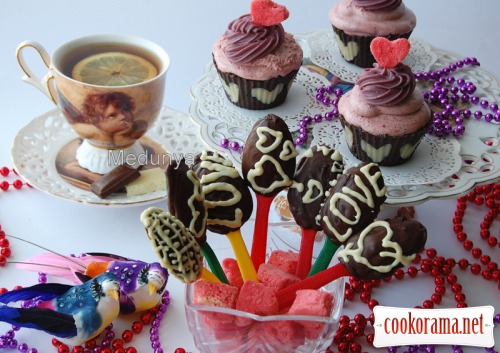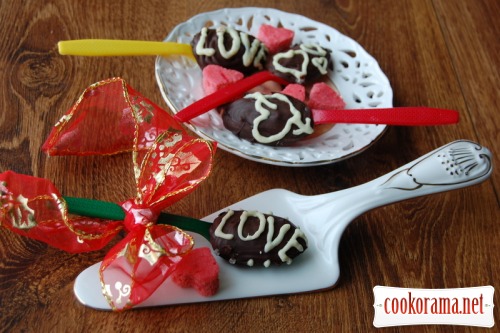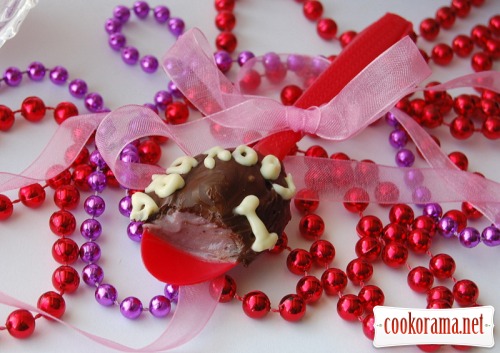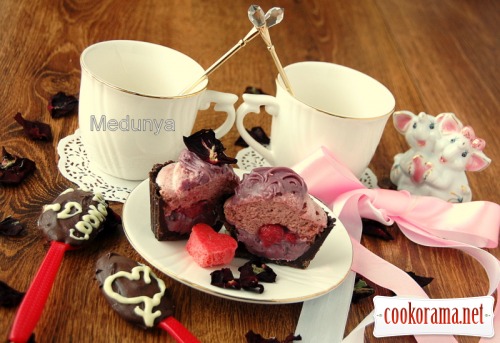 Bon Appetite!