Cheese-chocolate dessert with raspberries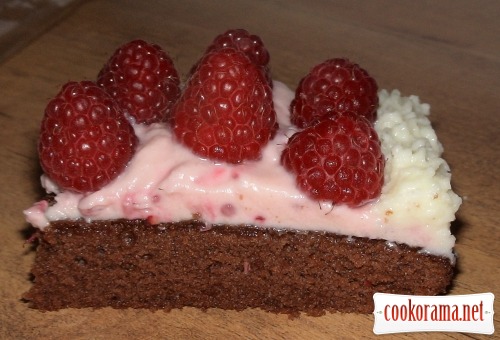 Ingridients
Biscuit
70 g.
25 g.
35 g.
1 шт.
1 шт.
1 spoon
Top
200 g.

The basis is a dense chocolate biscuit, and on top is mascarpone cheese mass with raspberries.

Preparation
Melt chocolate with butter. Add egg, yolk and sugar in foam, add chocolate — butter mixture, constantly stirring. Pour flour and salt and mix. Pour in greased with butter form (I have 20х20 сm) and bake in the oven, heated at t 200℃.
For top I mixed 200 g of mascarpone cheese with sugar powder and raspberries and spread on flat cake. Decorated with raspberries and remained mixed cheese with sugar without raspberries.
In the original recipe the top is just a cheese mass, for whick you should mix:
600 g of cheese (curd mass 9%-fat)
400 ml of cream
4 tbsp of sugar
1 tsp of lemon peel