Chicken with almonds and chickpeas (Chicken K'dra)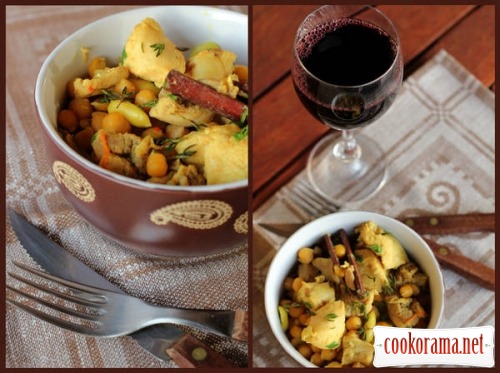 Ingridients
2-3 spoon
1-2 шт.
1 шт.
1 tsp.
0,25 tsp.
1 шт.
1,5 glass
800 g.
1 glass
3-4 spoon
Preparation
Sauté in butter thinly sliced onion. Add turmeric, cinnamon, ginger, fry for a minute, next add chicken and fry for 2-3 min, till it is totally covered with spices. Add water/broth, salt, pepper, peeled almonds and let it stew for 30-40 min. You can peel chickpeas, to make it softer, but if you are too lazy – nothing terrible. Add chickpeas, parsley and stew for 10-15 min. Sprinkle with lemon juice and serve.
I always think, than for meat – red wine, for poultry and fish — white. Recently I was enlightened, that for spicy dishes, especially with chili, it is necessarily to serve with dry red wine. And I can tell you – that`s true.
The recipe is from here
Top of recipe "Chicken with almonds and chickpeas (Chicken K'dra)"
603

07 October 2010, 16:34