Chicken with oranges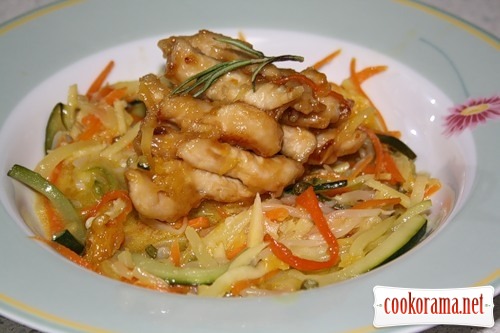 Ingridients
4 шт.
4 шт.
1 шт.
2 шт.
200 g.
3 spoon
50 g.


New Year's Eve meal, orange flavor is reminiscent of soon holiday.

Preparation
Wash oranges, squeeze juice from 3 oranges, prepare peel and pulp from remained orange. Mix juice, pulp, peel and grated ginger. Wash chicken fillet and dry with paper towel, cut in strips and roll in flour.
Cut vegetables in strips.
Fry chicken till golden crust in hot pan.
Add now 2/3 of orange-ginger mixture.
Stew for 10 min.
Fry vegetables separately, adding отдельно remained orange-ginger mixture.
At first spread in deep plate vegetables, then chicken, decorate with spring of fresh green.
Bon Appetite!