Chicken corma (curry)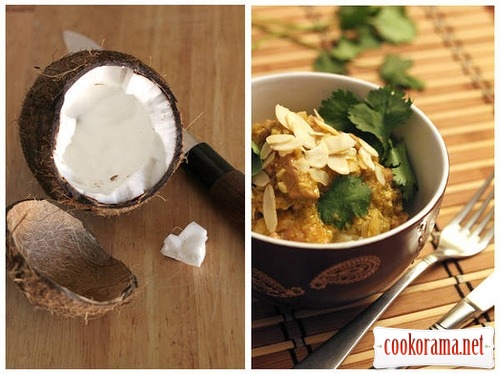 Ingridients
For corma-paste
2 шт.
0,5 tsp.
1 tsp.
0,5 tsp.
1 spoon
2 шт.
3 spoon
2 spoon
1 bunch
2 tsp.
1 tsp.
For corma-curry
800 g.
2 шт.
1 bunch
400 ml
2 spoon

I`ve prepared curry I think, for 3 times, and it was about boiling meat in coconut milk with spices. This time we came to the case thoroughly.

Preparation
For corma-paste:
Fry in a hot pan cumin and coriander to golden color. Grind in a mortar, mix in blender with the rest of paste ingredients.
For corma-curry:
If you did not find canned milk, but have the whole coconut – even better. Holes are easily punched, all the liquid, which has nothing to do with coconut milk, pours out from there. And then, the main thing is to aim and easily knock coconut in bottom with a blunt side of knife at a distance of about 1/3 from the end. Turn coconut and knock at the same distance, and it shall give equal split. That it`s easy to open it, if to move the blade in crack and press. And to get milk is also not difficult – grate coconut pulp (or mash in blender) and pour with boiling water. In general, it should stay for 12 hours, then drain, but we had a rapid infusion method — 1,5 hours. And there is no need in dry coconut – coconut pulp is enough.
And now curry. Heat in pan few spoons of oil, fry diced chicken to light golden color, constantly stirring, fry for 5 min. Add chopped onion, ginger and piece of butter. Fry till soft, stew for about 10 min. Add corma-paste, coconut milk, half of almond flakes, coconut shaving. Stir, bring to boil and let it stew covered with lid for 30-40 min. But curry needs attention, periodically stir it and check, in case to pour boiling water – not to boil liquid completely. At the end of stewing add salt and pepper to taste. Serve with rice, sprinkle with almond flakes and several cilantro leaves.
The recipe is from book «Ministry of food»
469

15 October 2010, 11:22