Curd cake with raspberry and white chocolate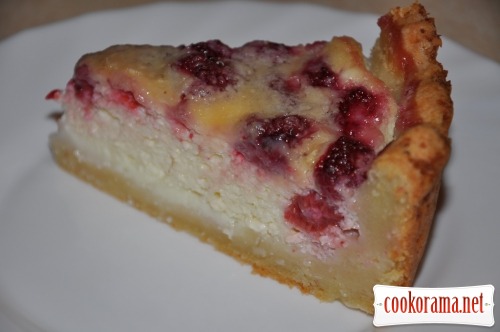 Ingridients
200 g.
100 g.
230 g.
50 ml
1 tsp.
200 g.
3 шт.
5 spoon
1 spoon
300 g.
50 g.
Preparation
Curd, butter and flour cut with knife into crumbs.
Kefir mix with baking powder and adding it to crumbs, gather into a ball and knead a soft dough.
The bottom of detachable form cover with paper for baking. By hands divide the dough on the bottom and the edge of the form.
Put form with dough in the fridge.
For stuffing mix curd with yolks and sugar, add mixed whites, carefully stir it.
Pour stuffing in form, top with raspberry, sprinkle starch and white chocolate (you can use the aerated chocolate).
Bake at 180 * for 55 min. Cake should rise well, if to move form, middle of cake should shake a bit.
Leave the cake in turned off oven for another 15-20 min. Then remove and cool it completely. You can sprinkle it with grated chocolate.
Bon Appetite!
Top of recipe "Curd cake with raspberry and white chocolate"