Curd cake «Pear under the snow»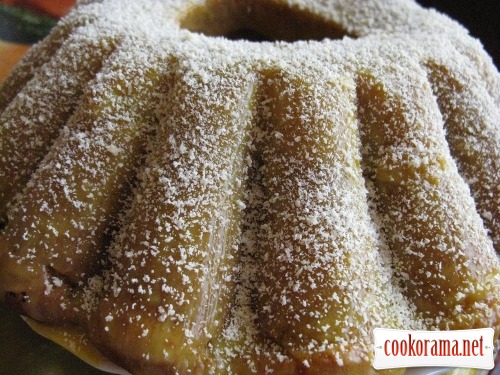 Ingridients
Dough
400 g.
150 g.
300 ml
3 шт.
2 spoon
400 ml
1-2 шт.
0,5 шт.
Cream
50 g.
50 g.
20 ml
1 шт.
Preparation
DOUGH:
Mix soft butter with sugar, syrup, lemon peel and eggs.
Add flour mixed with baking powder, knead dough.
Dough will be thick.
Heat oven at 200 ℃.
Grease form for cake with butter and sprinkle with flour.
Spread dough in form (one half), put on top sliced pear.
Next time I will put the pear in two rows.
On top-rest of dough.
Put in the oven and bake till readiness at 180 — 200℃, for an hour.
Cool cake in the oven, it is easily removed from form.
CREAM:
Melt chocolate with milk in water bath, add butter and melt it, mix all.
Cool a bit and add yolk, mix it.
Cream is ready.
Flip the cake and grease with cream all over the surface.
Grate with white chocolate, I took porous and got very nice shavings.
Bon Appetite

I did not make photo of cut, because baked for husband, at work.
I love curd cakes, because they turn out wet and nourishing.
Prepare cream for the first time, liked it very much.
Cake is quite big, so you can make half of portion.