Patties with liver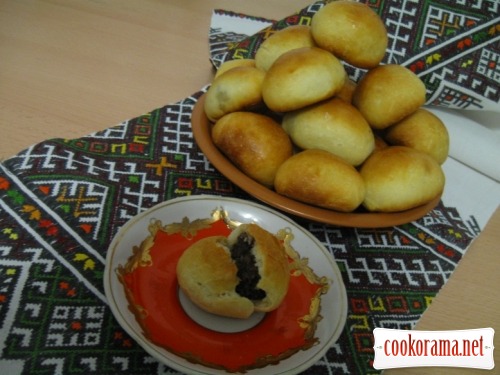 Ingridients
Dough
0,5 l
4 шт.
3 g.
2-3 spoon
50 g.
1 spoon
700-800 g.
125 g.
Filling
400 g.
400 g.
400 g.
3-4 шт.
Preparation
Cut heart and lungs in pieces, wash and boil till readiness
Remove film from liver, cut in pieces, wash and steam (I do it in a colander over a saucepan with boiling water).
Mince heart, lungs and liver
Finely chop onion and fry in oil till golden color, add to mince, salt, pepper, mix well.
Crash yeast in a small bowl, add 1 tsp of sugar, 1 tbsp of sour cream, mix and leave to ferment yeast
Mix eggs, salt, sugar, milk, pour yeast, add flour, knead dough, at the end of kneading add melted, cooled margarine.
Cover with towel and allow to grow up (volume increases about 3 times).
Grease baking sheet with oil or lard, form patties (my famoli loves a lot of mince in patties) and spread on sheet, not close to each other
Let it rise for 10-15 min, grease with egg and bake in the oven at 180℃.
P.S. also this patties can be fried in oil (they`ll be, like those which earlier were sold in shops).