Hummus and lean crackers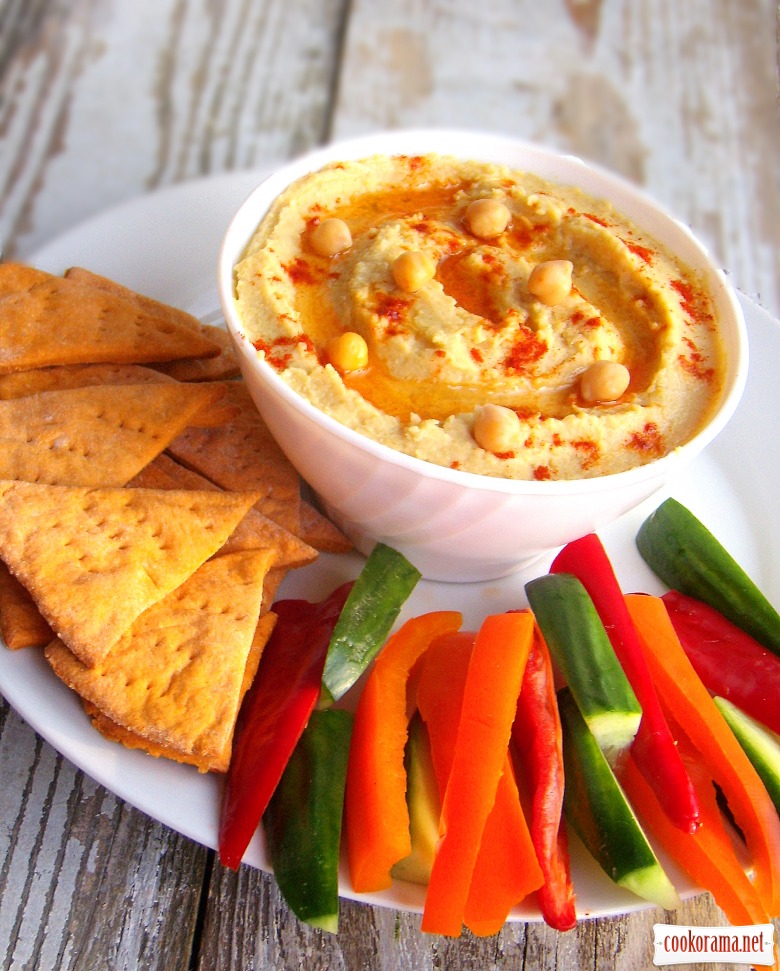 Ingridients
Hummus
1 glass
0,3 glass
3 шт.
5 spoon
2 tsp.
Crackers
0,5 glass
0,5 glass
1 tsp.
0,5 tsp.
1 spoon
100-150 ml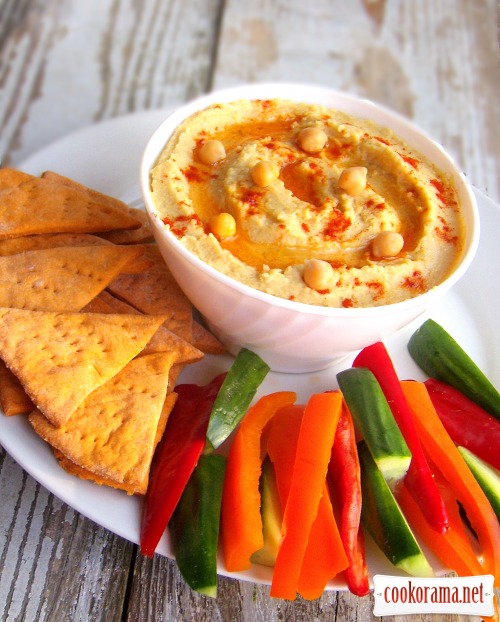 I wanted to prepare hummus long ago, but thinn paste was not available. Thank Larissa for the hint, googled a little more, all was very simple. Thinn pasta can be cooked at home, which I did. Result was nice.
RECIPE OF HOMEMADE HUMMUS (classic version).

Preparation
Soak chickpeas in water and leave overnight. Water should completely cover the beans. In the morning, before you start cooking, drain the water. Then pour chickpeas with fresh water in a ratio of about 1: 2, bring to boil and simmer 20-40 minutes. Then check the readiness of beans. When the chick is ready, completely drain and cool beans.
Chop 3 cloves of garlic finely. Put all ingredients except olive oil and red pepper in food processor container. Mix the ingredients until the desired consistency. If hummus is too thick, add the required amount of water. Usually hummus is mixed until you have a homogeneous, creamy mass. Some prefer hummus less homogeneous, with pieces of products. Then shift the mixture in a cup, pour olive oil and pepper with crushed red pepper.
Hummus in its classic version is ready. Serve it with crackers, fresh vegetables.
LEAN CRACKERS.
Preparation
1. Sift flour in bowl, add salt, baking powder, oil and stir with fork into state of crumbs, now ass tomato juice and knead smooth dough. Next, wrap it in film and put for 40 min in the fridge.
    2. Roll cooled dough in thin layer, about 2 mm thick. And now fantasize, can cut circles, diamonds, squares. Optionally, you can grease the top with water and sprinkle with sesame seeds, seeds or favorite spices. Put crackers put on a baking tray covered with baking paper and bake for 8-10 minutes at 190-200 degrees.