Pancakes with pate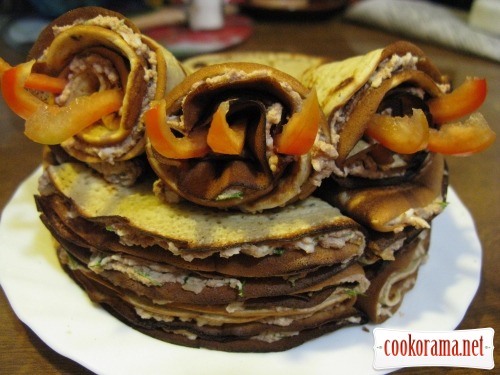 Ingridients
Dough
300 ml
3 шт.
360 ml
0,5 tsp.
0,5 tsp.
0,5 tsp.
50 ml
Filling
240 g.
2 шт.
1 шт.
Preparation
Mix eggs with sugar, salt and soda.
Add milk, mix again.
Add flour, stir well.
At the end add herbs and oil, mix it.
Heat the pan well, bake pancakes from both sides.
Put ready, warm pancakes in package, to steam.
Meanwhile prepare stuffing.
Boil piece of meat or liver and grind into puree. If you are in hurry, то then use pate from shop.
Stew onion in some oil and add to meat with oil.
Grate egg and chop greens, add spices.
Grease our pancakes all over the surface, about 1 tbsp of mass for one pancake.
I fold in triangles, and those on top, in roses.
Bon Appetite to all