Night rabbit with beer
Ingridients
1 шт.
4 шт.
10 шт.
1 tsp.
3 spoon
2 spoon
2 шт.
1/3 tsp.
1/3 tsp.
100-150 ml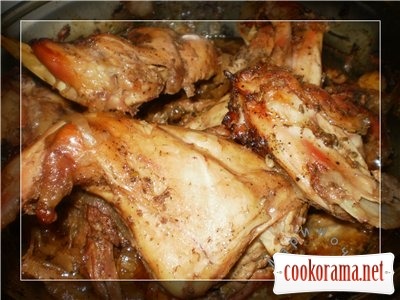 Preparation:
Wash rabbit and carve into pieces, wash well and dry.Put into baking form (any with you want to use).
Add salt, pepper, sqeezed garlic and sliced into rings onion. Add soy sauce, balsamic vinegar, beer, basil, bay leaf and rosemary, stir well, cover. Put into refrigerator for night.
Put into preheated oven at 200 degree C without cover, bake for about 60-80 minutes, stirring sometimes.
It comes over very tasty!