Chicken stuffed with pancakes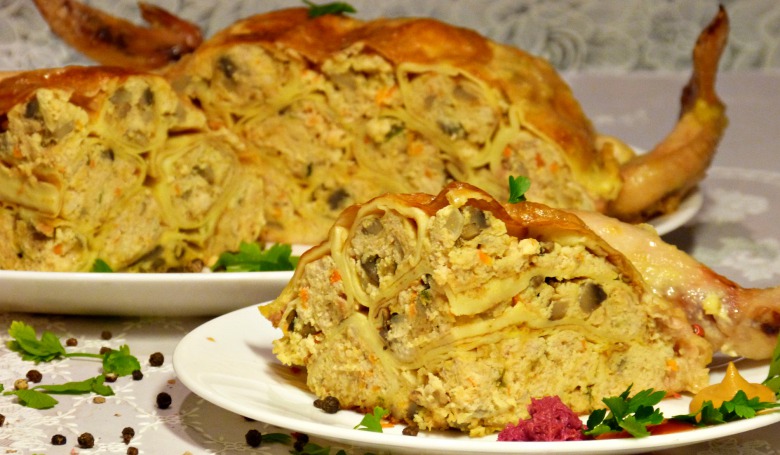 Ingridients
1 шт.
2 шт.
1 шт.
200 g.
200 g.
500 g.
5 шт.
1 glass
0,1 g.
1 spoon
1 spoon
2 spoon
Chicken stuffed with pancakes.

Preparation
At first fry pancakes. For this mix eggs with sugar, salt and gradually add flour, constantly stirring. Pour oil. Fry thin pancakes. For me, the crucial moment is the removal of skin from the chicken. Thanks the Internet, where are a lot of photo and video explanations of how to do it. It turned out not difficult, and it came out form the first time. Now put skin in refrigerator and prepare mince.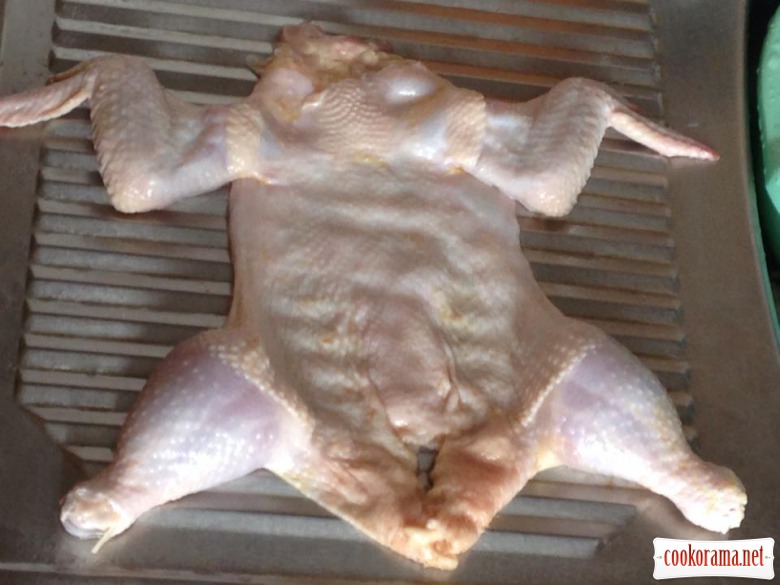 Divide carcass meat into smaller pieces and boil in salted water until tender.
Wash mushrooms, cut, fry in oil. Add grated on a coarse grater carrot, chopped onion, salt, pepper and simmer until tender. Separate cooked meat from bones, mince it, add ready-made mushrooms, grated hard cheese and stir everything well.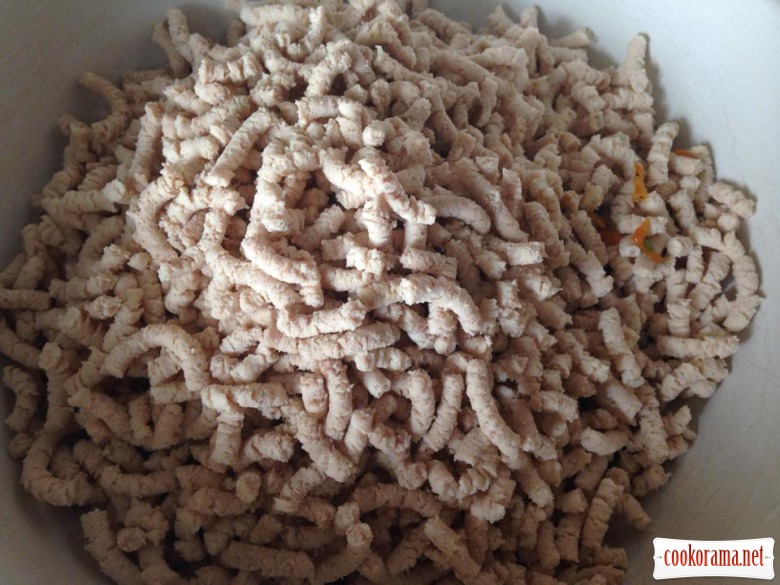 Spread stuffing on the edge of the pancake and make a roll.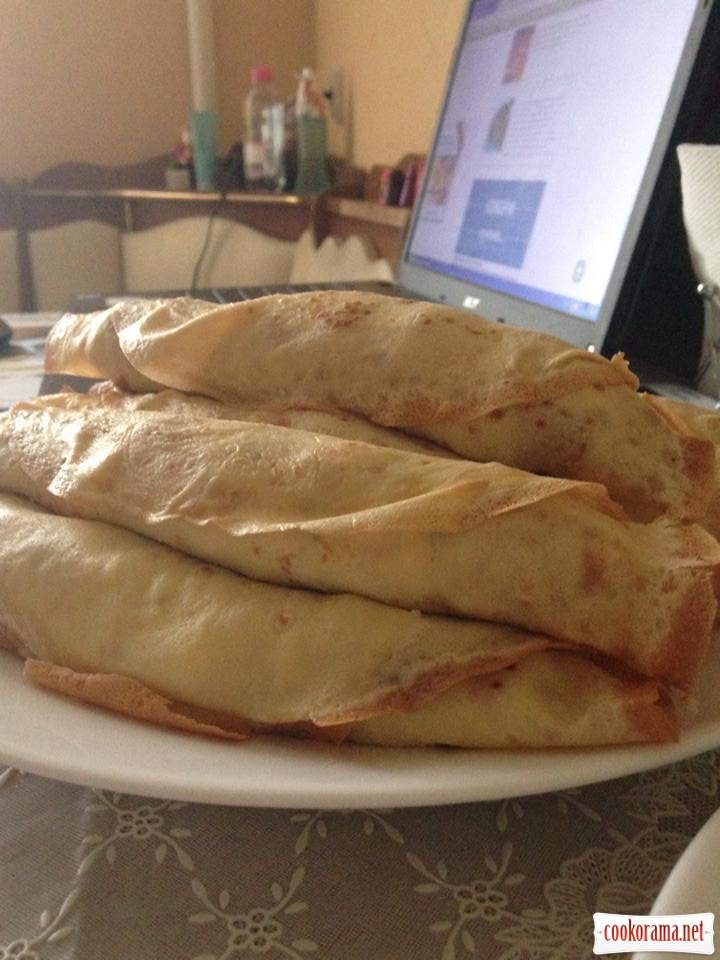 Mix with fork 2 eggs in plate.
Stuffing: smear thin layer of mince inside on skin. Next deep each pancake roll in mixed egg and spread inside, till you fill all the carcass with pancakes. Also smear upper layer of pancakes with thin layer of mince. Try, not to fill chicken with pancakes a lot, as the skin may crack during frying.
Sew up holes by threads and connect legs with thread.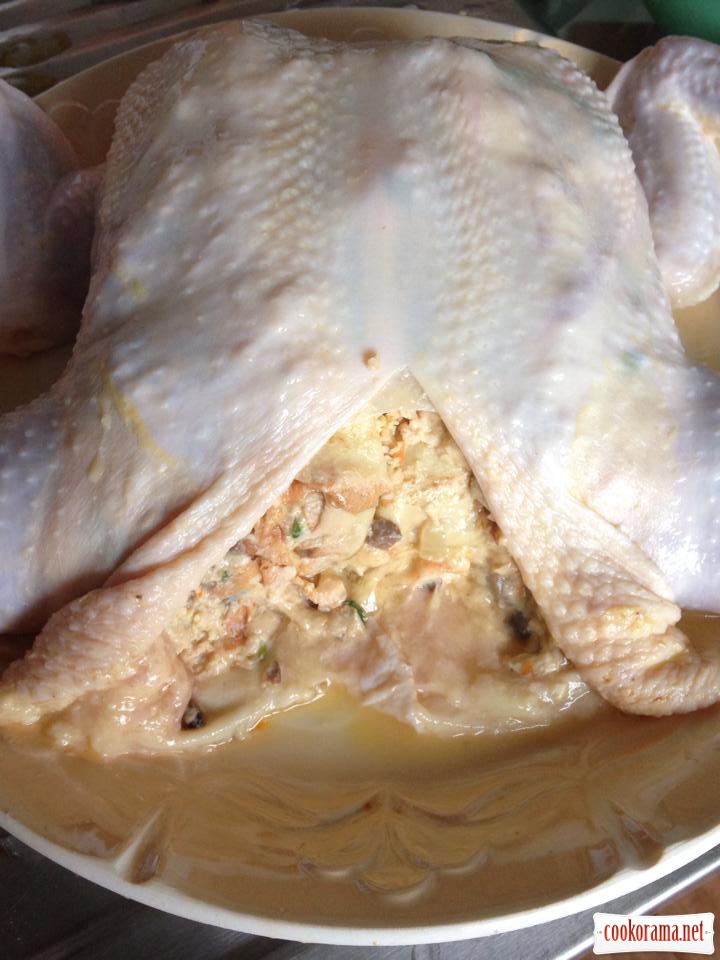 Spread chicken on parchment and put in heated at 180℃ oven. Bake for 40-50 min, smear with mayonnaise-garlic mixture and leave for another 10-15 min.
Let the chicken stand for 5-10 min aster baking and remove threads, serve it whole.
This chicken is very tasty, not only hot, but also in cold state!