Boeuf a la Bourguignonne - Burgundy meat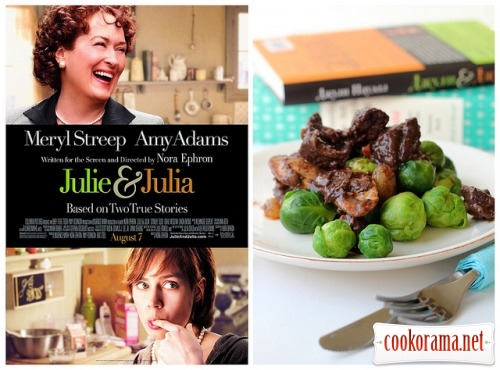 Ingridients
1500 g.
200 g.
1 шт.
1 шт.
40 g.
700 g.
600 g.
20 g.
2 шт.
1 bunch
20 шт.
500 g.
So, now here will appear dish, about which, like a year ago I said «never!», but time flows, everything changes, and so I read «Julie and Julia» and realized that this is a mistake. «Mastering the Art of French Cooking» is on the shelf, and I didn`t cook Burgundy meat.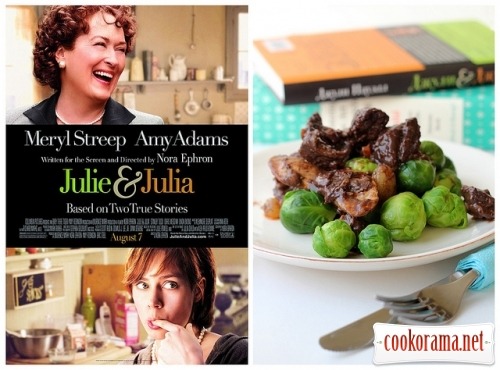 Preparation
Start from the heating oven at 230℃. Then dice meat, slice bacon in strips, peel and chop onion and carrot.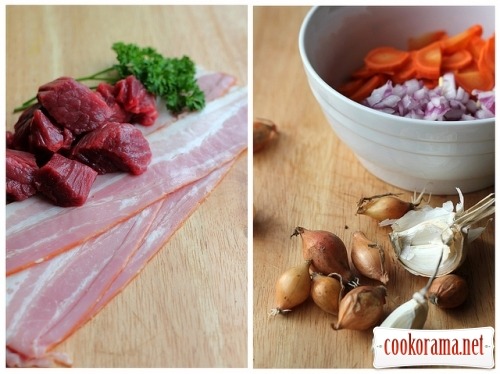 In a large pan fry the bacon for 2-3 minutes until it comes into light golden. Put it in a bowl. Then in oil and bacon fat fry meat, which might be dry, otherwise it won`t fry appropriately. Fry with small portions from all the sides (it takes me 4 sets), put in a bowl to bacon. In the fat that remained, fry onions and carrots till golden.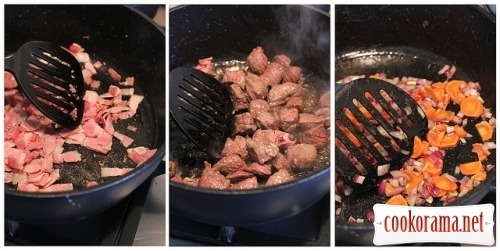 Combine meat and bacon with vegetables, add salt, pepper and mix it well. Powder it with flour and after stirring put in the oven for 4 min. Take it off, mix it and again in the oven for 4 min. Reduce heat at 160℃. Pour wine to pan and pour the broth, so that the meat is barely covered with liquid. Add the thyme, mashed garlic, tomato paste, stir and bring to a boil on the stove. Cover the pan with a lid and put in the oven for 2,5-3 hours. While the meat reaches condition, prepare the onions and mushrooms.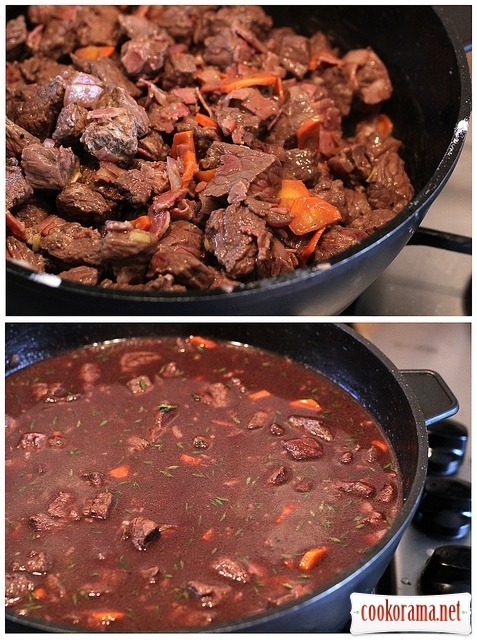 Fry the peeled onions in oil on a middle heat, stirring till it become golden. Fry the mushrooms in a hot mixture of oil and butter, дуже, дуже гарячих. And mushrooms should be dry, otherwise they would let the juice and have no crust. Leave until the meat be ready. This is when it will be easy to disassemble the fibers with fork.
We took out the pan, spread the contents into a large colander. Wash the pan, move meat back, spread there mushrooms and onions, and the remained fluid, boil to a thick sauce. When you`ll see that it is thick enough, pour the meat with it, mix and heat for another 3-4 min. That`s all serve with a side dish and fresh greens.
Phew. This requires some effort, but the result… From a not big amount of meat you`ll have fantastic, nourishing and delicious ragout. This portion will be enough for 6 persons, and you can prepare it in advance. And Julia notes that warmed it after some time, is even tastier. Bon apetit!