Pancakes with banana and curd, baked in a delicate cream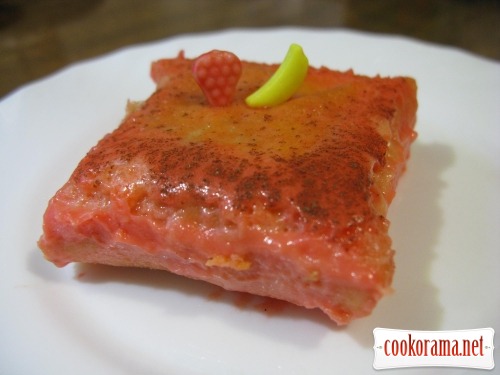 Ingridients
Pancakes
250 ml
250 ml
3 шт.
0,5 tsp.
0,5 tsp.
0,5 tsp.
360 ml
50 ml
Filling
250 g.
3-4 spoon
1 шт.
1 шт.
Cream
200 ml
1-2 spoon
2 шт.
Preparation
Combine and mix well eggs, salt, soda, sugar, flour and half of liquid, to avoid clumps, gradually add rest of liquid, constantly stirring.
Add oil at the end and stir again.
Bake from both sides on well heated pan.
Put ready pancakes in package, to soften the edges.
For stuffing-mix curd with sugar, add banana puree and sour cream, stir well.
Stuff pancakes with curd, about 1 tbsp for pancake, and wrap in square, fold in form seam down.
For cream-mix sour cream with sugar and strawberry cream.
Add eggs and mix well again.
Pour our pancakes and sprinkle with cinnamon, but better add it right to the cream.
And put in the oven for 15 min at 180 — 200℃.
Serve them warm.
Bon Appetite to all

Rest of pancakes we ate with condensed milk

You can see the similar recipe here
here
Top of recipe "Pancakes with banana and curd, baked in a delicate cream"