Spaghetti in a creamy-nut sauce with roasted pumpkin and feta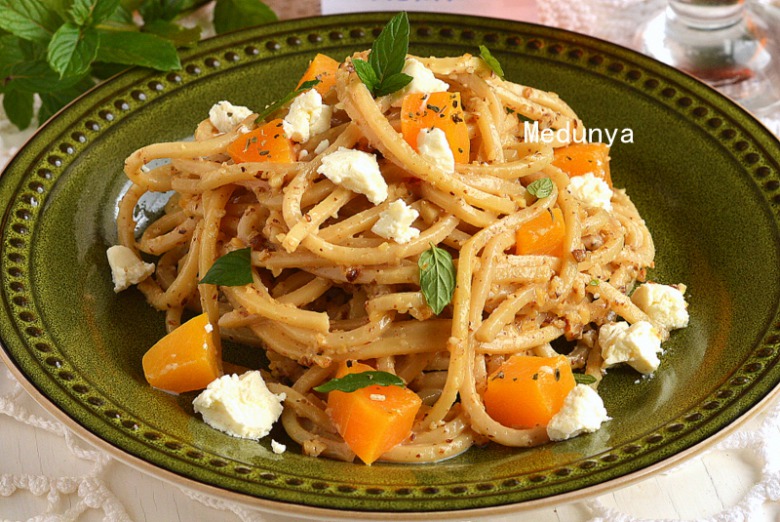 Ingridients
300 g.
0.75 glass
300 шт.
2 шт.
0,3 g.
75 g.
1,5 tsp.
150 g.
1 spoon
1/2 tsp.
100 g.
5 g.
Tasty and nutritious meal with very original taste. Creamy nut sauce unsurpassed. And adding roasted pumpkin and feta makes dish tastier and more beautiful. Very tasty.


PREPARATION
Boil spaghetti in salted water almost to readiness (al dente state).
Dry nuts in oven till tasty smell (for about 5 min). Grind in blender into crumb.
Fry ground nuts in pan with butter for 3 min. Add cream, finely chopped garlic, add salt and pepper. Cook for 3 min. Add spaghetti and heat all for 1 min.
Serve, sprinkled with diced feta and baked pumpkin with spices, sprinkled with mint.
Bake pumpkin before cooking spaghetti. For this peel pumpkin, dice it. Sprinkle with oil. Sprinkle with herbs, salt and pepper. Bake in oven at 180℃ for 25 min.
Bon Appetite!
Top of recipe "Spaghetti in a creamy-nut sauce with roasted pumpkin and feta"
756

18 November 2014, 00:01