Pasta with pineapple under thick bechamel sauce with appetizing cheese crust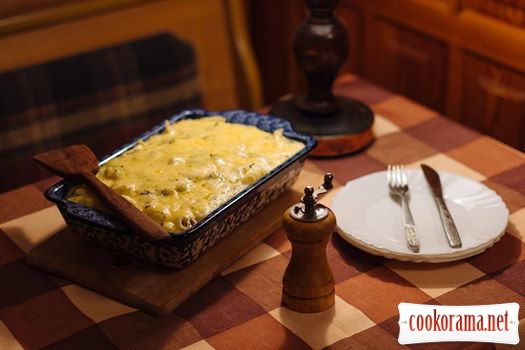 Ingridients
300 g.
150 g.
250 g.
500 ml
120 g.
1-2 шт.
2 spoon
1/7 tsp.
Do not know what to cook for dinner? I offer excellent recipe)) Tested on colleagues)


Preparation
— turn the oven on at 200℃.
— put to cook the pasta in salted water.
— grate cheese.
— for the bechamel sauce: melt butter, add flour, always stir to get smooth mass; fry mixture a bit to gently brown color, add cold milk, constantly stirring; once sauce thickens – let it boil for 5 min. Press garlic, add nutmeg, salt to taste.
— slightly undercooked pasta recline in a colander and put into form, top with pineapple, pour with sauce, sprinkle basil. Finishing touch — cover our pasta with thick layer of cheese and place in oven for 10-15 min.
Bon Appetite!
Top of recipe "Pasta with pineapple under thick bechamel sauce with appetizing cheese crust"
1276

20 February 2015, 16:53