Potato and cheese cream soup with white mushrooms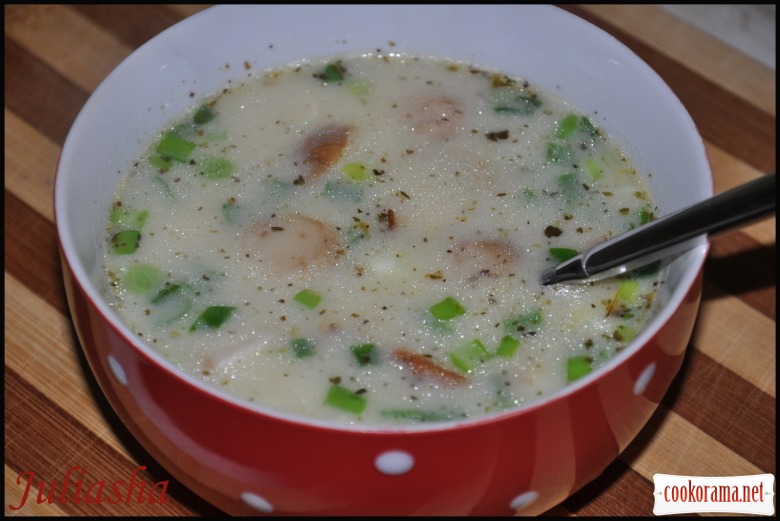 Ingridients
5 шт.
100-150 g.
1 шт.
1 шт.
500 g.
2,5-3 l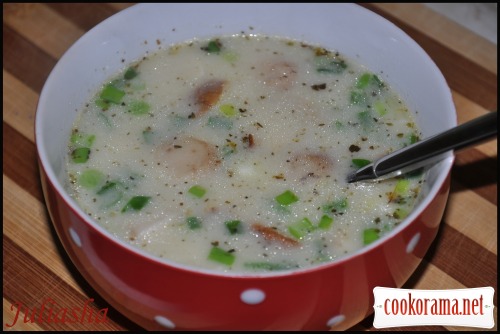 Sometimes it is helpful to make «inventory.»in the freezer

Yesterday discovered in it last batch of white mushrooms harvested since the summer.

I clean them, cut into slices, put in bucket of ice cream and immediately in freezer.
Time was short, I wanted something easy and delicious and I started to improvise… boiled soup, which immediately sharing the recipe, because it really was very tasty.

Preparation
So, peel and dice about 5 potatoes, pour them with water (about 2,5-3 l) and put over heat. Meanwhile, melt in pan 100-150 g of butter, pour finely chopped onion, sauté to softness and add in soup. Salt it, add to taste province herbs and boil for 20 min, till potato boil well. Then add grated melted cheese and grind soup in blender to state of puree. Pour 500 g of dry white mushrooms and boil for 10 min, not more, they turn out tasty, juicy, fragrant and gentle. Then pour chopped green onion to taste and turn off gas.
Preparation of soup takes 30 min.
The highlight of this soup is that it has a delicate taste, as potatoes do not «dilute» mushroom, it is possible to enjoy the taste of mushrooms.
Try it!

Top of recipe "Potato and cheese cream soup with white mushrooms"