Gazpacho (cold tomato soup)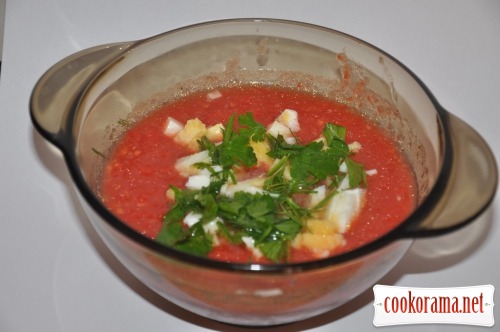 Ingridients
4 шт.
2 шт.
2 шт.
3-5 шт.
1 шт.

Respect the Spaniards, who came up with such a great cold soup, very appropriate in extreme heat.
It is prepared very quick and easy. The only thing — without blender or food processor it would not be so quick and easy

Preparation
Pour tomatoes with boiling water for 2 min, to remove peel easily. Dice tomatoes and rest of vegetables and mix all in blender or food processor, add salt at the end, pepper and olive oil to taste (I added 2 tbsp).
Pour in bowl, and put in the fridge for an hour.
Before serving sprinkle with sliced boiled egg and greens. You can eat with crackers. As you wish.