Indian bread naan with garlic and coriander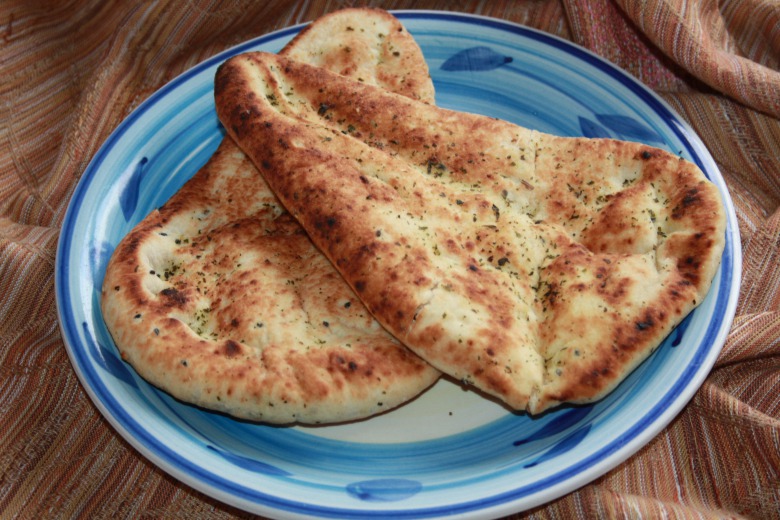 Ingridients
wheat flour (better cereal)

280 g.
1 tsp.
1 tsp.
4 spoon
1 spoon
1 шт.
1 spoon
2 tsp.
Naan is traditionally baked in clay ovens in the ground (tandoor) served warm (because cold naan is tasteless ) with different types of curry. (see recipe of corma, which I published).

Preparation
Mix dry yeast with yogurt and leave for 15 min.
Sift flour in deep bowl, add salt, grated garlic, honey (melted), chopped coriander, yeast-yogurt mixture, melted butter and knead soft dough.
Knead dough well oh sprinkled with flour surface (10 min), to elastic- smooth state, form a ball, put in oiled bowl, cover with film and put in warm place for 45 min, or till increasing twice in volume.
Heat your oven at highest temperature (not less than 230℃) and put forms in it (sheets) where you will bake naan.
Divide dough in 4 parts, cover each with oiled film and roll giving shape of drop, at about 5 mm thick.
Heat grill to maximum.
Place on the hot baking sheet (leaving space between them, because they grow up) and bake in the oven for 3-4 minutes. (I baked two on each baking sheet).
Smear with melted butter and place under a hot grill for 2-3 seconds (just seconds, not minutes!!!) to light «brown» color.
Serve hot or warm!!!
Bon Appetite!!!
826

28 February 2015, 15:38