Bread with zucchini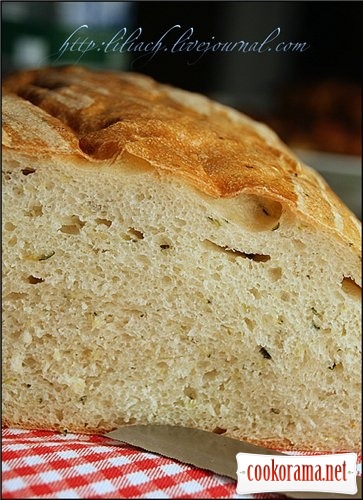 Ingridients
600 g.
40 g.
500 g.
2 spoon
300 ml
This soft, fragrant, with crust bread has 500 g of zucchini!


Preparation
Grate zucchini in big, deep bowl. After grated zucchini cover bottom of bowl, sprinkle them with salt. Grate another layer of zucchini, salt again. Continue alternately put layer of zucchini, layer of salt, till you use all the zucchini. Let them stay for 30 min, so the salt can remove excess liquid from them. After that squeeze them with hands well.
Dissolve yeast in 8 tbsp of warm water. In a separate bowl mix zucchini, yeast and flour, gradually adding water, to get smooth, but quite steep dough.
Knead dough well for 10 min. Put again in bowl, cover with film and let it stay for 1 1/2 hour, till it increases twice in volume.
Knead dough into a ball, and then form it into a cylinder with pointed ends. Put it on greased with butter baking sheet, cover with film and put in warm place for 45 min, so it increases in volume again. Just before baking grease surface with butter or yolk, not to burn stood out on the surface zucchini.
Bake bread in preheated at 220℃ (425F) oven for 45 min, till golden brown. Cool it.
The recipe of this wonderful bread I found at Irisha jazzinitup, thank you a lot! It became one of the most favorite in our family.
584

29 September 2010, 20:37