Bread from semolina "Gingerbread Man"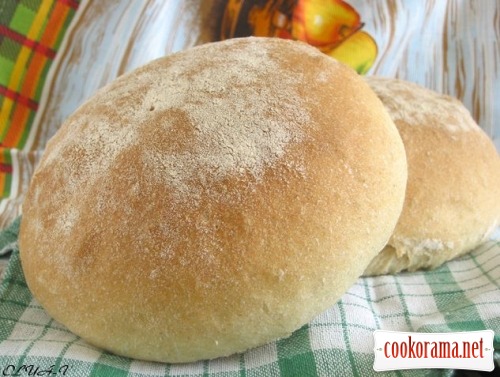 Ingridients
Batter
1 glass
0,7 glass
0,5 tsp.
2 g.
Dough
0,75 glass
1 glass
1,7 glass
12 g.
1 tsp.
1,5 tsp.
3 spoon


Wonderful, delicious bread with a crispy crust, the recipe is by Oksana, forum SAY-7

Preparation
First you need to prepare a leaven, better do it in the evening, and bake bread in morning.
Dissolve in warm water yeast and sugar, leave it for 10 min. Then pour flour and mix, dough will be, as for pancakes. Cover bowl with cloth and put in a draft-free place for 12 hours.
The next day dissolve yeast in warm water, leave for 10 min. Mix in bowl flour and semolina, sift it (do not sift flour of coarse ground, then sift only semolina).
In raised leaven add sugar, salt, oil, pour water with yeast, mix it, pour portions of flour with semolina, at first mix in bowl, dough will be sticky, but nothing terrible, do not add flour more, semolina takes liquid into itself and it becomes elastic, knead dough till it gets smooth, them knead on sprinkled with flour table.
Grease dough with oil, shift in bowl, cover and put in warm place till dough rises well (I used dry yeast, so my dough raised in 1 hour, with real it`ll rise for 2 hours).
Slightly knead raised dough (do not knead much), divide in 2 parts, form balls, roll them in flour. Shift on covered with paper baking sheet, cover with napkin and let it rise twice (mine raised in 30 min, with real yeast they`ll rise for 1 hour).
We`ll bake with steam. Put tray on a lower level of oven or wide container, heat the oven at 200 degrees.
Then, in heated oven on a medium level, gently put raised balls, and in container on lower level carefully pour glass of hot water (boiling water) and quickly close the oven, bake this way for 15 min, next in 15 min remove container with water and bake bread till it browns.
Cool ready bread.
Bon Appetite!