Traditional Tarte Tatin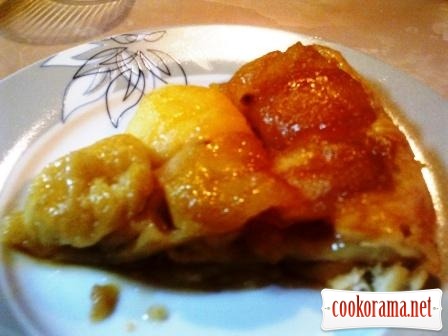 Ingridients
400 g.
1 kg
150 g.
125 g.
Traditional Tarte Tatin
To preserve the historical authenticity of the apple pie by recipe of Tatin sisters, in the homeland of dessert in Lamotte-Beuvron, is organized Brotherhood Tarte Tatin, La Confrerie des Lichonneux de Tarte Tatin. Enthusiasts seeking to preserve the culinary heritage, argue that only by following the true recipe, the cake will get the same unique taste, like a hundred years ago.
Recipe and description based on
" What is the Tarte Tatin?"
Preparation:
Take a frying pan with high edges, about 24 сm in diameter. Grease pan with butter(150 g). Sprinkle butter with sugar (125 g).
Peel 1 kilo of apples.
Cut in quarters and spread close to each other, curved side down. Fill the gaps with large chunks.
Heat the apples on the stove (not in the oven) on a low heat for 10-15 min, to follow the process of caramelization.
After that, cover apples with a layer of shortcake or puff pastry with a diameter slightly larger than the diameter of the pan and place in oven for 15 minutes.
When the cake is ready remove the pan from the oven and let it stand for a few minutes.
Then cover the pan with serving dish, quickly flip and serve.
Thus prepared Tarte Tatin has a unique taste, so do not serve it with cream or flambe.
Accompany Tarte Tatin, on the advice of the Brotherhood with light red wine (for example, from the Sologne) or excellent cider. And according to the authoritative wine connoisseur and critic Eleonora Scholes, for" Tarte Tatin ", the famous French dessert of caramelized apples do not come up with anything better than sweet wine «Quart de Chaume» or unique Hungarian «Tokay».