Caramelized pear pie with cinnamon and anise ("Tarte tatin")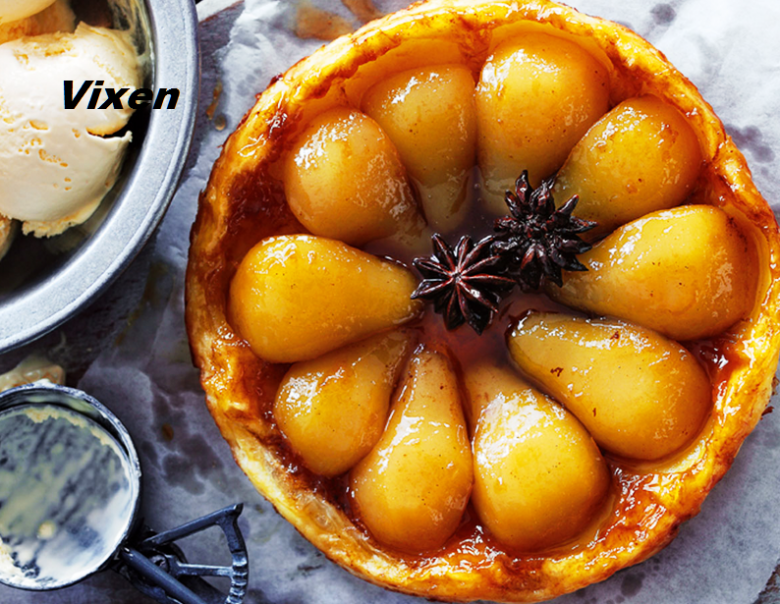 Ingridients
4-5 шт.
50 g.
2 шт.

brandy (or fruit liqueur)

1 spoon
50 g.
350 g.
1 шт.
Today we had guests who are accustomed to the fact that Ukrainian women bake delicious pies and do not buy them in the store


Since I did not have time to go to the supermarket, I decided to do something for dessert with a range of products that were at home

and thought about another tasty recipe from my notebook, such as caramelized pie tartе tatin


I had pears,also I found a package of frozen puff pastry ...so agreed…
Experienced (prepared for the contest from one magazine) simple recipe and a little bit of work, but it turns out delicious… and even if served with nut — creamy ice cream… mmm… Warm spicy caramel with pear, lightl puff pastry, refreshing taste of ice cream...


<h6Preparation
Melt in pan (such that can be put in the oven, ie without wooden or plastic handle!!!) butter with sugar (better tastes with brown), add cinnamon stick and two anise stars and over low heat (stirring occasionally with wooden spoon), bring to a caramelized state (syrup will become golden, but not brown !!!) and thick. Caution, do not prepare sugar «candies»


Spread in pan peeled and cut in half (or if large, in quarters) pears,quiet close to each other. Better take ripe pears, but quiet hard, because soft can «fall apart»


Give it some time (again, LOW heat) to boil in caramel and absorb all the flavor of spices (I did for 5-6 min) and pour brandy (or calvados or your favorite fruit liqueur). Alcohol in this recipe is necessary to bring the effect of «flambé» (ie over pan will «explode» flame and dissapear in a few minutes). NOTE: when you fill up alcohol, pay attention (better smoothly dress hair and do everything within distance of hand, and also watch for «little helpers» around (my assistant sat closed in arena

and protested a lot


When the flame disappeares, remove from heat, pears are ready. Roll dough to a thickness of about 2 cm and with a diameter slightly larger than the pan diameter.
Remove cinnamon stick, leaving anise (do not eat it too, but it is already at serving you take it out) and on top cover pears with dough, a bit 'wrapping' edges. again, very carefully, because the pan and caramel is extremely hot!!! Be careful!!!
Grease on top with mixed egg and bake in oven for 20-25 min till golden color. (180℃ with convector).
Remove hot pie from oven, slightly «move» knife by walls of pan, as " separating dough from the pan and leave it for 5-7 min in form.
Turn on a board or plate for serving, cut into portions, and serve to the table (if you still find ice cream, just incredible yummy!!!)
Instead of pears you can take apples or plums, or mix of different fruits (not berries

)
Bon Appetite!!!
Top of recipe "Caramelized pear pie with cinnamon and anise ("Tarte tatin")"
959

25 March 2015, 17:48