Apple pancakes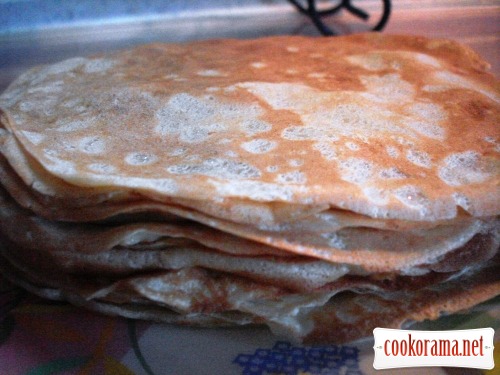 Ingridients
9 spoon
2
500 ml
1 шт.
2 spoon
1 spoon

Personally I really enjoy cooking pancakes.
Fritters with grated apples are not surprising, but pancakes — maybe…

Preparation
Grate apples
Add to dough and stir well
Heat the pan well, it is the key to success of the first pancake.
Allow me a little advice for novice housewives:
I pour oil in pan, only one time, usually, heat well, when pan is ready to get another pancake, drain hot oil into dough and stir.
Pour dough into almost «dry» pan
Fry pancakes over quiet strong heat for 1-1,5 min from each side
Dough «grasps» quickly, easy to turn,
Pancakes turn out thin, even with grated apple, soft, do not need additional steaming – edges are not overburnt.
Always tasty, quickly, without problems.
P.S. Forgive me, connoisseurs of good photos, that's all I managed to squeeze out from my «veteran».